The Complete Guide to Online Thrift Shopping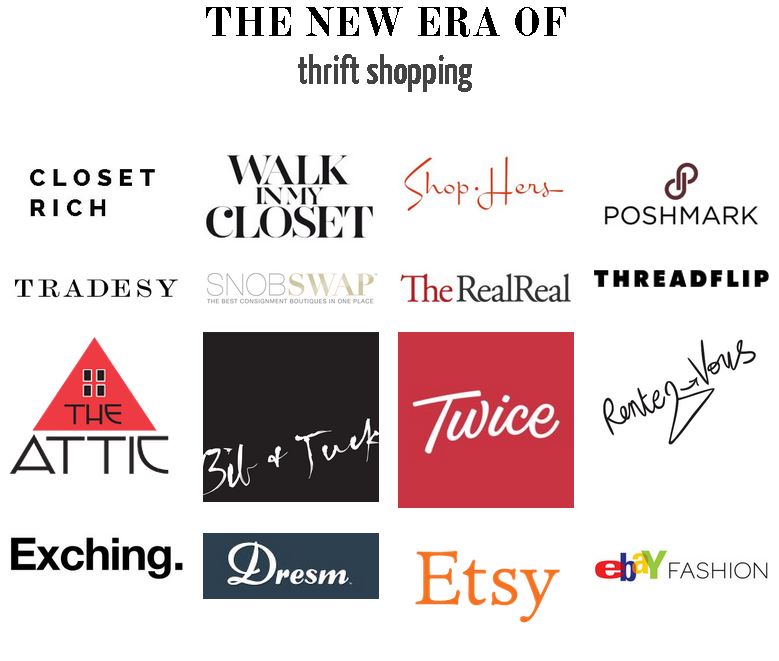 Have you ever been a victim of the thrift shop allure? Low prices and the possibility to stumble upon a hidden treasure can lead to spending hours digging through the most eclectic mix of garments only to end up empty handed or with a few random clothes that aren't really that good. The information era has made shopping easier, and thrift shopping is not the exception. The ability to sort by brand, color, size and category is a feature that I cannot believe we once could do without; the extra help comes at a small cost, though, as online vintage is usually more expensive since there are more parties involved that need to make money and there is a human selection process, in some cases, making it a more labor intensive activity.
Most of these sites will also sell your clothes for you or will allow you to list them your own for a small commission, letting you take advantage of your old clothes and preventing them from ending up in a landfill. Some sites like Twice do all the work for you, which makes it easy to let unwanted clothes go and others like Poshmark will allow you to sell everything you have but you must take pictures and deal with customers; depending on the item and how much certain site is willing to offer you for it, it is better to sell it yourself. If you have a designer brand, your best bet is to go with the sites that specialize in that kind of products, since their customer base could help you sell faster and at a better price. Another strategy is to list it in several places and just wait for the best offer, just make sure you are aware of all the terms and fees involved.
Just because it's cheap and just because it's vintage, it doesn't mean you have to go crazy, the same shopping rules apply to vintage shopping: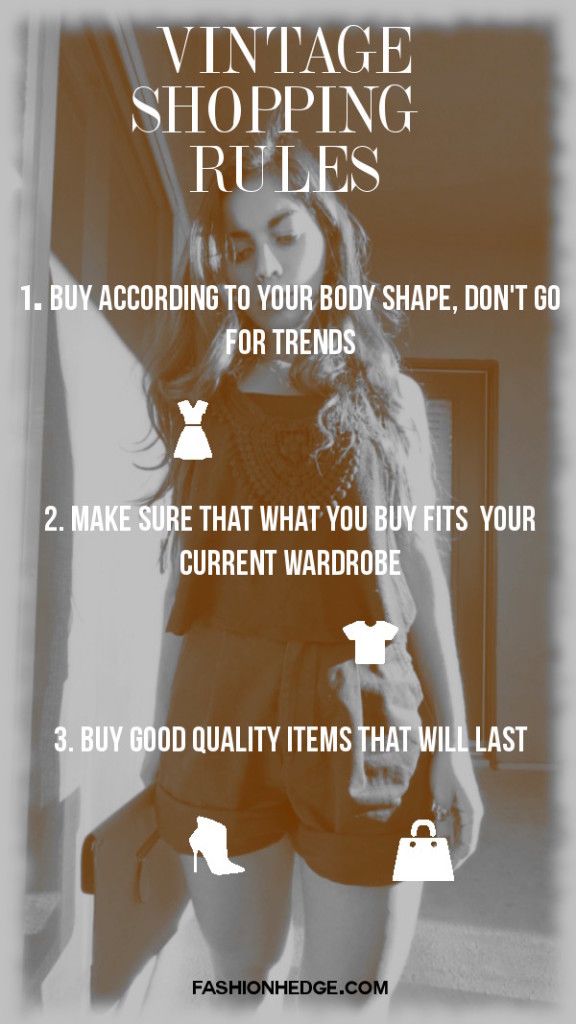 ---
 A comprehensive guide to the new online thrift shopping
In the following guide, you will find the biggest vintage shopping sites right now. Classics like eBay and Etsy are well known, but there is a whole new legion of websites you might not know about. Don't worry, I'm here to help. For each site, I will let you know if you can buy, sell or both and will provide a tagline in "quotation marks" that I believe describes the main products in a short fun way.
My #1 picks are based on design and price, meaning I consider the item a good deal for its value, keep in mind that some of the links might stop working as the products sell out. I tried to make my picks in no more than 2 minutes and I think I was able to find some really good stuff!
Overall, this is a way to showcase you can get great products at very good prices, but for the extra good deals, you will probably still have to dig a little deeper, just like in a physical thrift store.
Buy and sell
"From high end handbags to phone cases"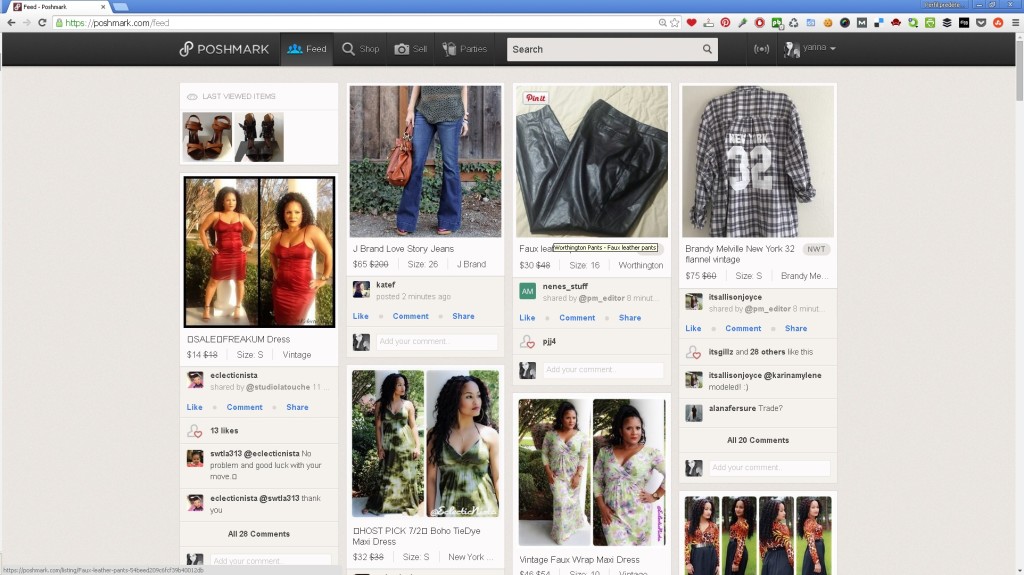 Poshmark was one of the first apps of this kind I had on my iPhone (now available for iOS and Android).  Poshmark is made of a community of fashion lovers that want to rotate their old clothes and accessories, sometimes swapping, sometimes offering great deals for their old garments. The array of brands is broad, including fast fashion and high-end brands. You can't return items on Poshmark, but if you have a problem, they will help you resolve it, make sure you interact with the seller if you have any questions to avoid disputes. I wish they had something similar to a seller rating, so that they are held accountable for their shortcomings, hope that feature is coming soon! The things I feel more confident buying are accessories and shoes, I always want to see the packaging if the item is said to be new and you can also ask the seller for additional photos and information on sizing and feel.
Brands: basically every brand ever. Forever 21, J Crew, Louis Viutton, Tory Burch, Balenciaga, Nike,  Alexander Wang, Madwell. Look for brand specific parties for a better chance to find what you are looking for.
My #1 pick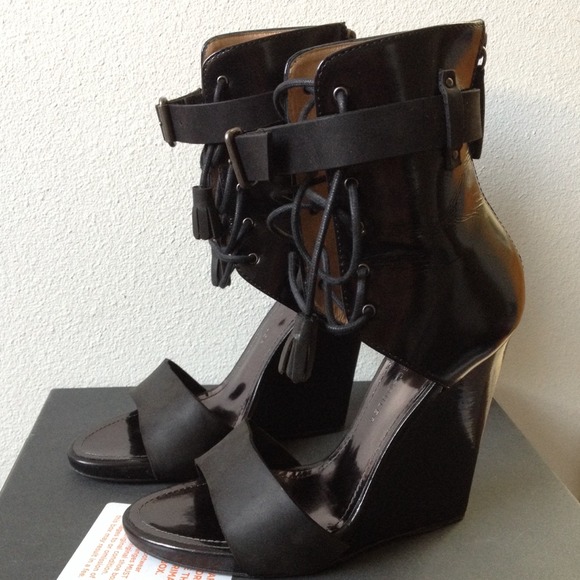 Proenza Schouler Lace-Up Wedges, found here, $175
Buy and sell
" Trusted brands at fair prices"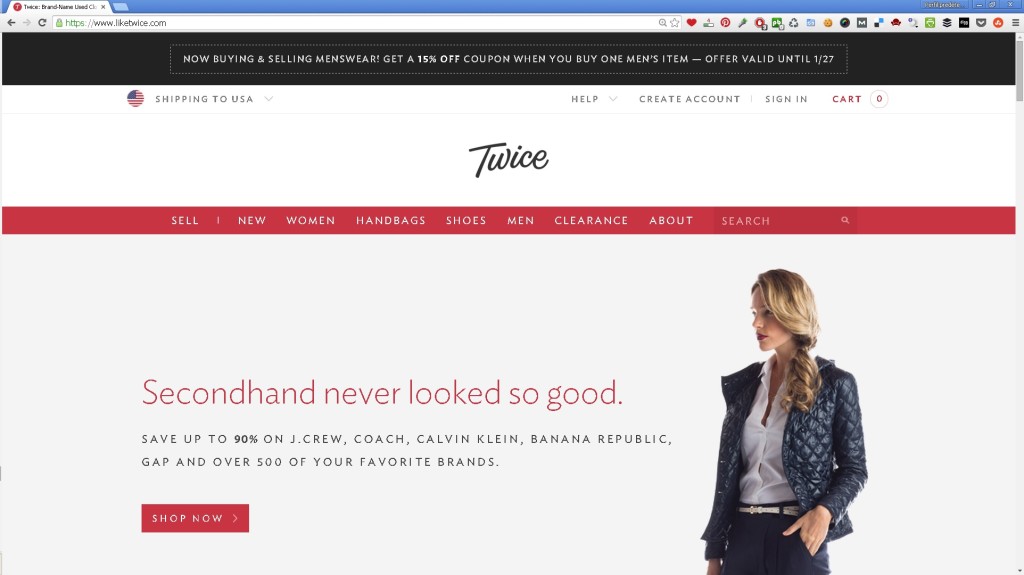 Twice is a place to buy and sell used clothes in great condition. If you want to sell, you ship your clothes for free and they make you an offer, if you accept, you get paid instantly and if you decline you can get them back or they donate them to charity. They do all the work related to listing the products and that's why their site has a cleaner look that others where customers upload their own photos. They have free shipping and free returns, which is always appreciated!! Here you can see a list of the brands they buy and thus, the ones you can find on the site for sale. App available for Android and iOS.
Brands: J Brand, lululemon, American Eagle, Guess,  J Crew, Loft, Urban Outfitters, 7 for all mankind, Ann Taylor, adidas.
My #1 pick

Talbots white silk tank top, found here, $11.95 (best deal I found by far)
Buy, sell and swap
"Snobby"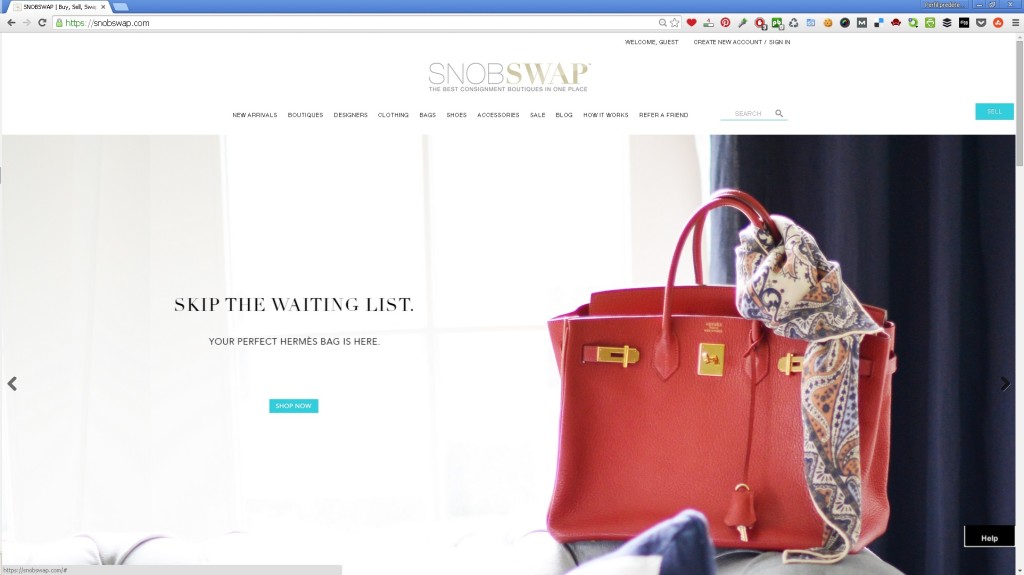 This store specializes in mid-tier designer luxury and high-end favorites. So, this is a great place to sell any of those brands and probably get a better price that you would on eBay or Etsy. You have the option to sell them your clothes and they will list them or you can list products yourself, if all you want to do is shop, they have a big selection and you can also exchange your items with other users.
Brands: Alexander Wang, Marc Jabobs, Eileen Fisher, Paige, Coach, Fendi, Citizens of Humanity, Isabel Marant and Louis Vuitton.
My #1 pick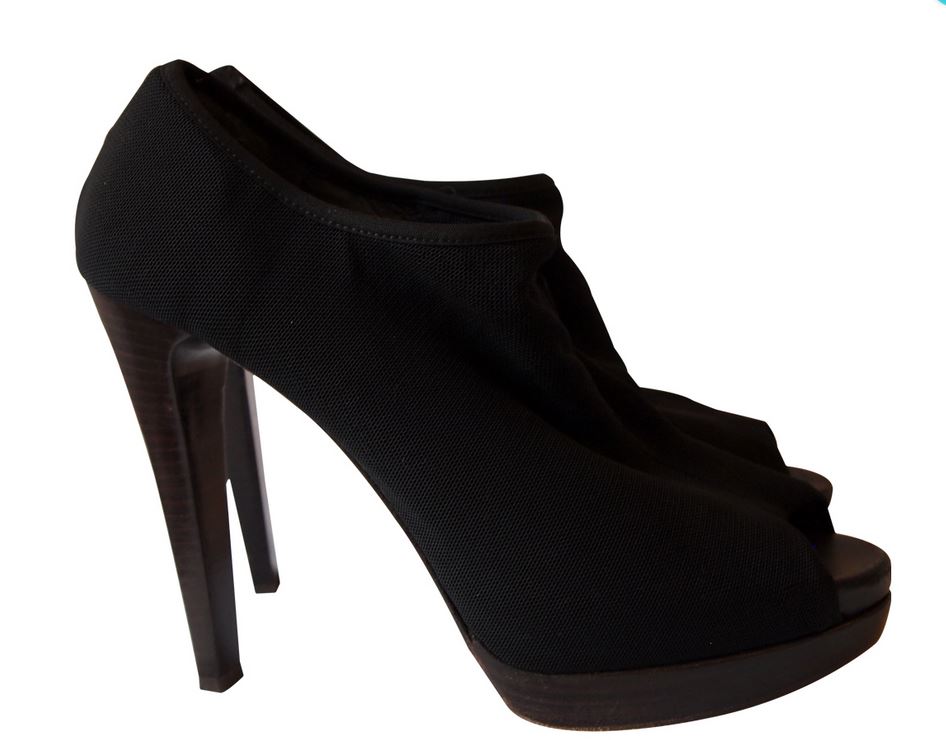 Stuart Weitzman Black Peeptoe Booties, found here, $75
Buy and sell
"Something for every style "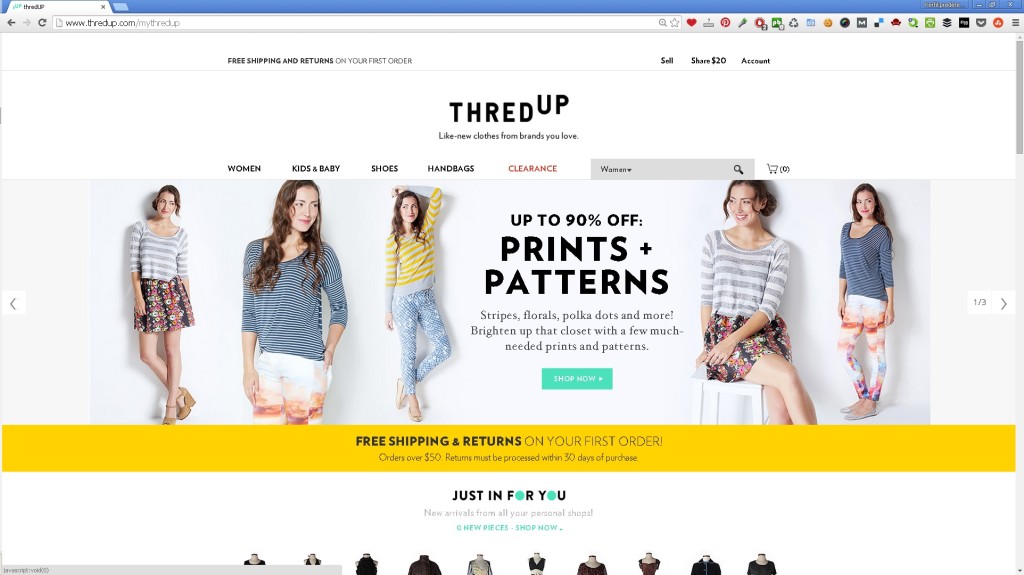 At ThredUP, they want to have something for every look: classic, trendy, edgy and contemporary. They have a little quiz to give you custom results according to size and favorite brands.
Brands: they specialize in middle of the road brands and not so much in luxury items, some examples are: J Crew, Ann Taylor, Michael by Michael Kors, BCGB and Diane von Furstenberg.
My #1 pick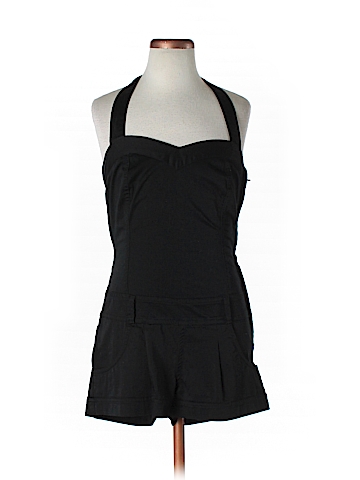 Guess black romper, found here, $21.99
Buy and sell
"Style for the whole family"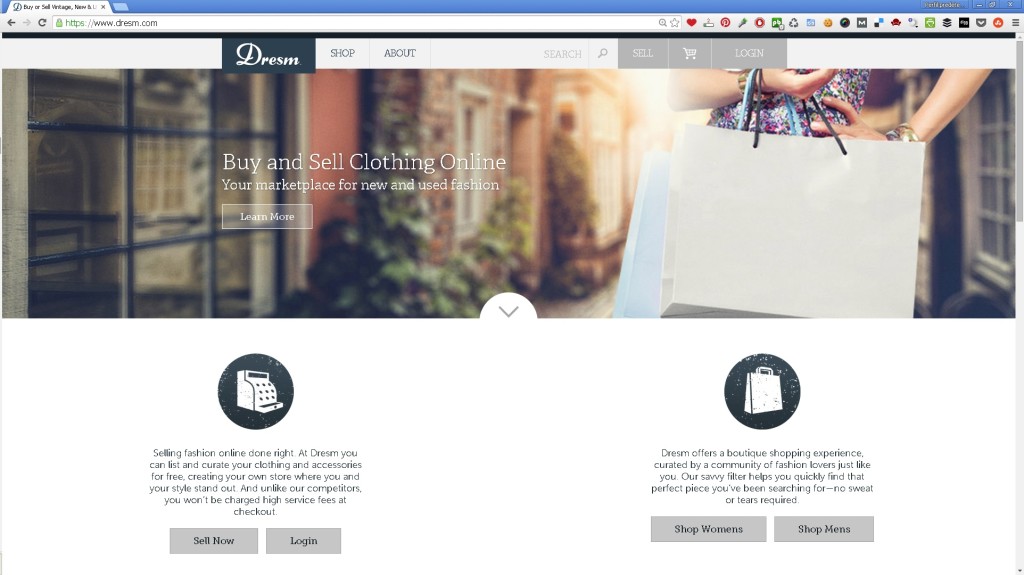 This online shop has a good variety of brands and even when they do have some designer labels, that's not their focus, their bet is affordability and variety. You can shop for men, women and kids and also sell items in any of those categories. Listing your items is free and they charge a 6% commission, collected only when you sell the item.
Brands: American Eagle, ALDO, Bellini, UGG, Roxy and a number of private labels.
My #1 pick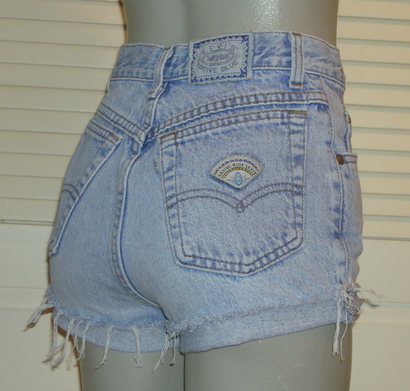 Vintage Levi's denim shorts, similar here (the ones in the photo were sold while I was finishing this post), $35 (the original ones were cheaper, I think this price is actually too much for something that you could get for $5 somewhere else)
Buy, sell and swap
"High-high-end"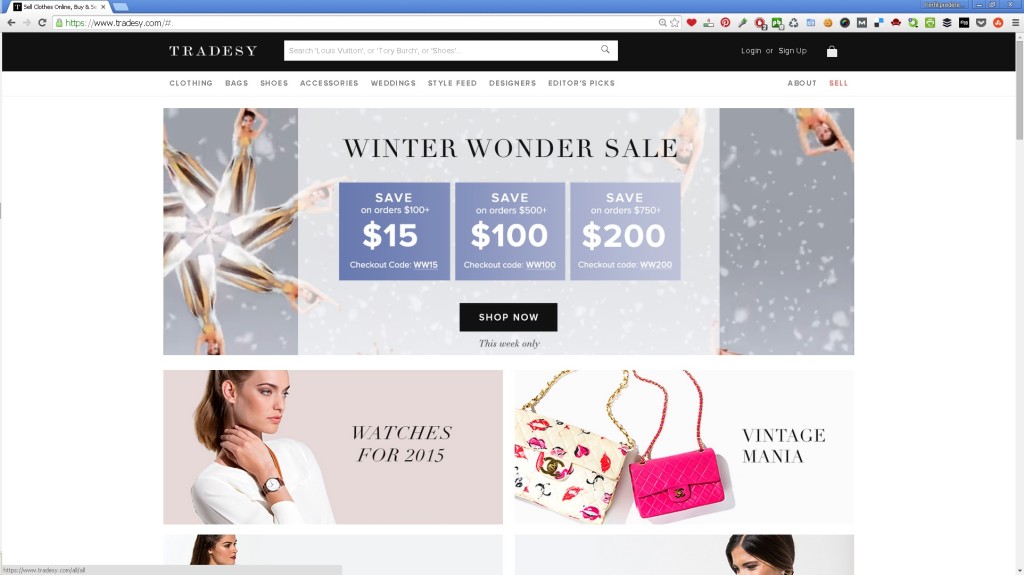 Tradesy has become the go-to online destination for vintage -and not so vintage-  luxury with a broad selections of styles by the most recognized designers.
Brands: Chanel, Louis Vuitton,  Rolex, Hermes, Prada, Yves Saint Laurent and Dior. Yes, these are the big leagues.
My #1 pick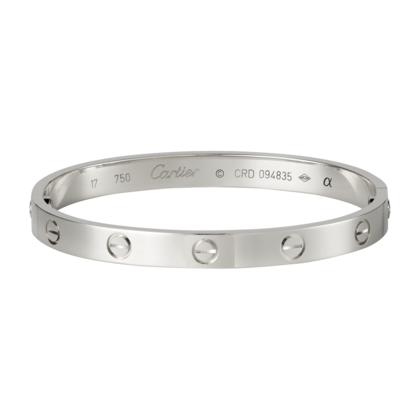 Cartier White Gold Love Bracelet, found here, $2,140.50, a crazy price considering the retail price $7,100
Buy and sell
"With a true thrift store feel"

Exching is a service to shop and sell pre-owned clothes and accessories for individuals and thrift stores. They have many random pre-owned pieces  at VERY affordable prices. Definitely worth checking every once in a while.
Brands: this site definitely looked the most like an actual thrift shop, including the randomness of brands you can find, mostly affordable fashion and not so much designer labels, some examples: Urban Outfitters, Abercrombie&Fitch, H&M, American Eagle and tons of private labels.
My #1 pick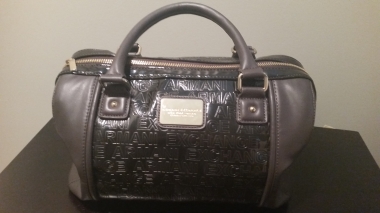 Armani Exchange Purse. found here, $50
Buy, sell, trade, consign
"Your best neighbor's attic ever"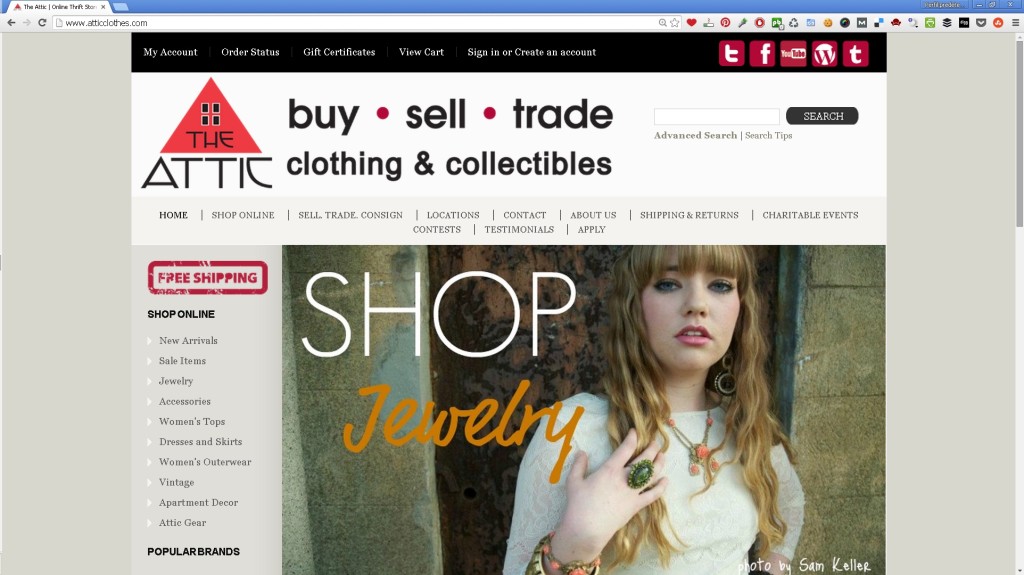 The Artic carries young styles that represent the last two seasons in fashion, so it's a more trendy alternative but you can also find basics in excellent condition. This is fast thrift shop fashion! A big plus: they offer free shipping and free returns. Before signing up for consign, make sure you read their policies.
Brands: MinkPink, Bebe, BCBG, Free People, Guess, Asos and Volcom.
My #1 pick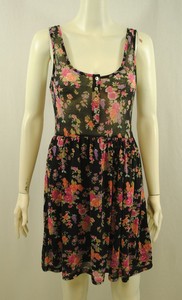 MinkPink floral dress, found here, $29.95 (not an incredible price, by the way, with more time, I would try to find something similar but cheaper)
Buy and sell
"Cheap to Lux"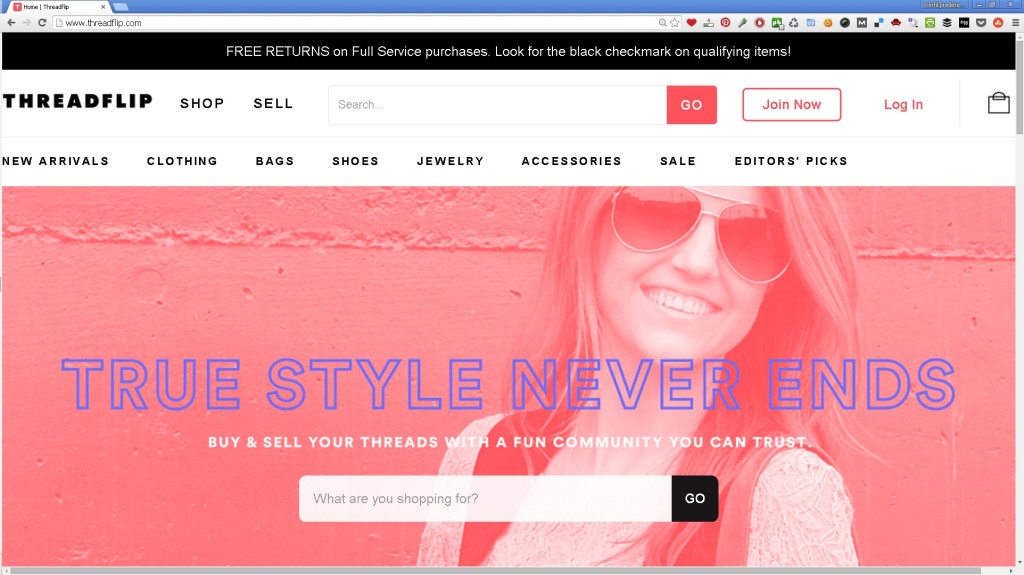 Threadflip allows you to sell everything from your cheap garments from fast fashion retailers like Zara and ASOS to Prada and Marc Jacobs. You can shop a wide variety of items brom basic summer tops to designer handbags in one place. They have an iOS and Android app and the site has been featured in The New York Times, VOGUE and TechCrunch, among other publications.
Brands: J Crew, Chanel, Club Monaco, Coach, Rag $ Bone,  Lanvin, Tory Burch, Manolo Blahnik, Gap, Stuart Weitzman.
My #1 pick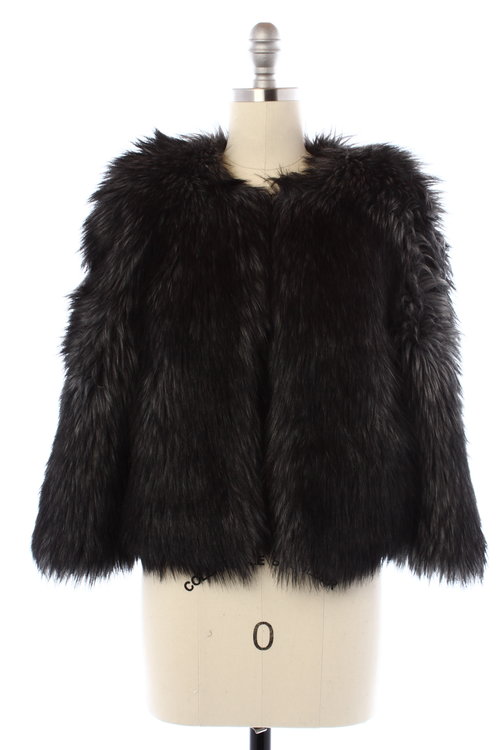 Michael Kors Black & Grey Faux Fur Jacket, found here, $69
Buy and sell
"Middle of the road to high road"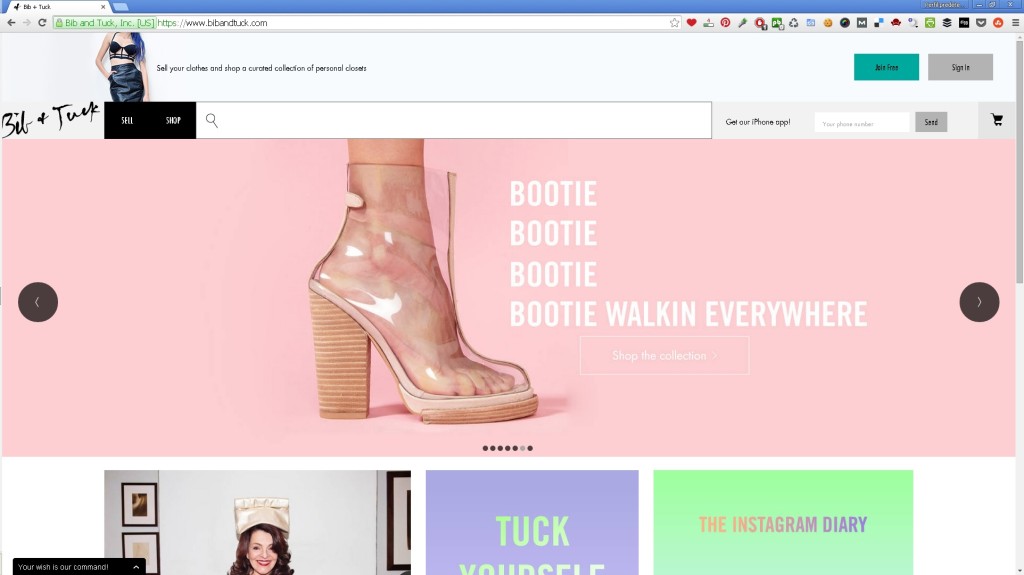 At Bib+Tuck you can sell your clothes and use your earnings to buy from other closets, or you can just keep the money! You can also shop hundreds of items from other fashionistas. One of the rules to sell is that garments are in great condition and are not from cheap fashion retailers, yay!
Brands: Chloe, Ray Ban, Gucci, Marc by Marc Jacobs, NastyGal, ASOS, Betsy Johnson.
My #1 pick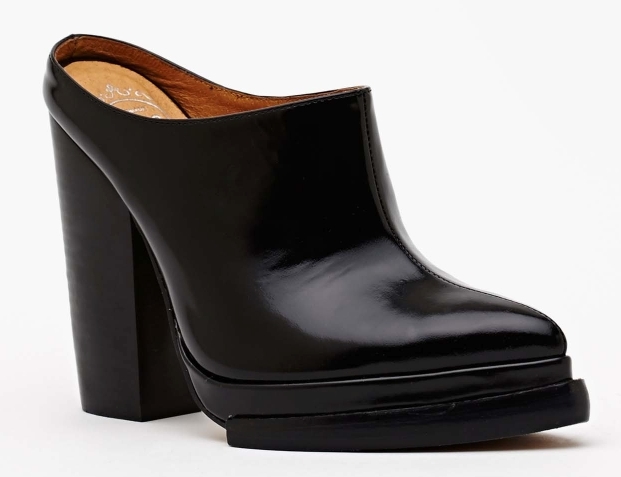 Jeffrey Campbell Black Mules, found here, $110
Buy
"Pre-loved premium essentials"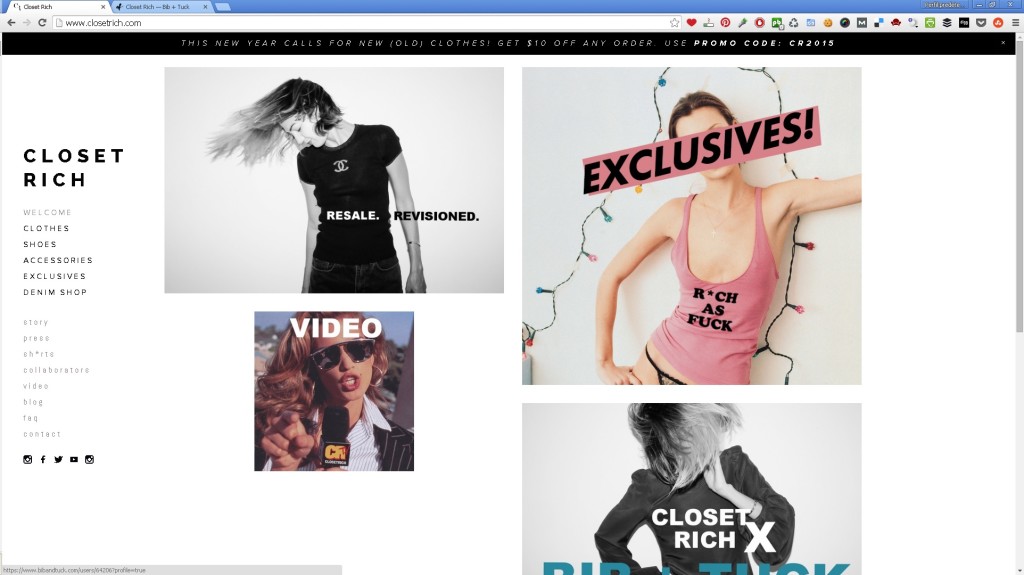 Closet Rich sells pre-loved clothes from private clients who they select on a referral basis and help with their unwanted garments so that lucky online shoppers can enjoy them. Isn't that awesome? It's like having snobby friends with awesome clothes they want to give away without having to actually having to deal with snobby friends.
Brands: Gucci, Lanvin, Givenchi, Christian Louboutin,  Miu Miu, Stella McCartney, Jimmy Choo, Guiseppe Zanotti, Alexander Wang, Proenza Schouler, Reformation.
My #1 pick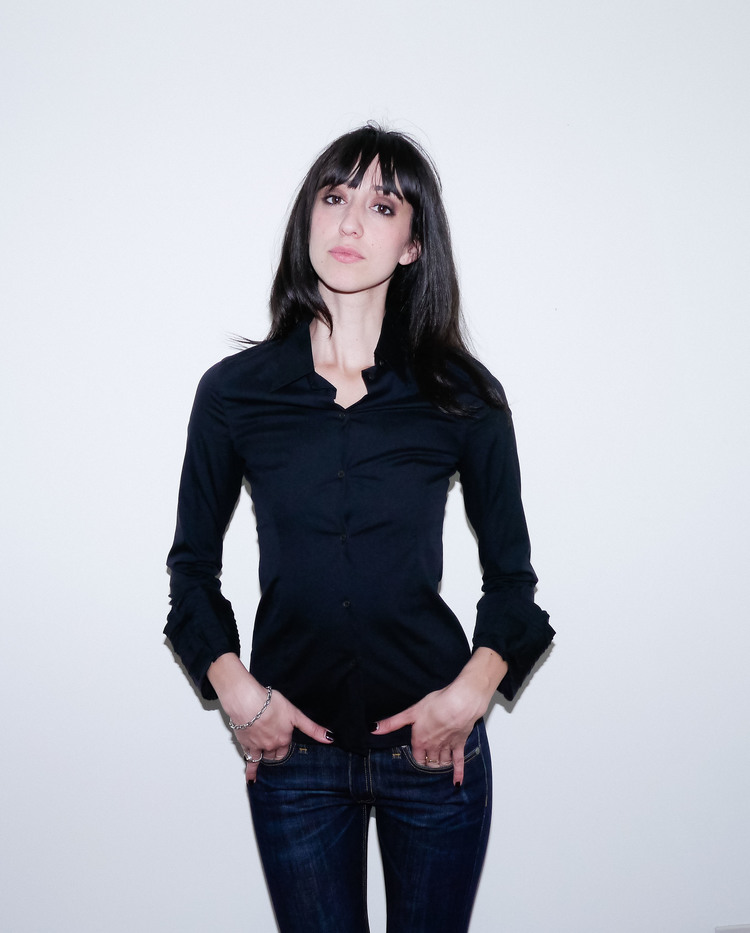 Miu Miu Black Button up Shirt, found here, $50
Buy and consign
"Luxury at its best"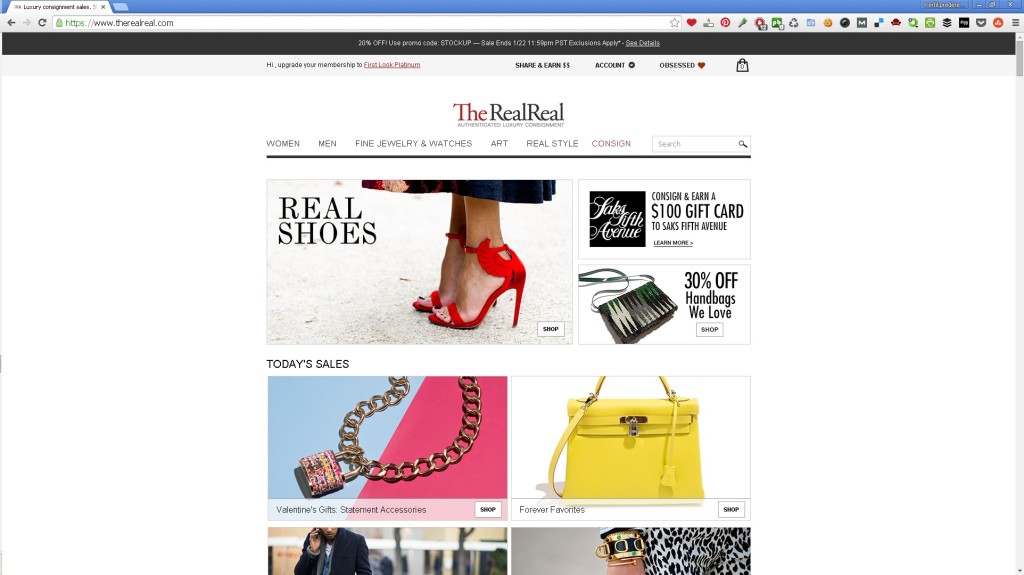 The RealReal is an online luxury consignment store.  They offer premium brands like Chanel, Louis Vuitton and Balenciaga, every item is authenticated to ensure legitimacy. This seems to be the ideal place if you want to consign any luxury item that has completed its cycle with you, the site also has a good selection of art, including work by Picasso, Henri Matisse, Joan Miró and more, see a complete list of designers and artists here.
 Brands: Celine, Hermes,  Prada, Goyard, Oscar de la Renta, Burberry, Gucci, Valentino, Yves Saint Laurent, Givenchy.
My #1 pick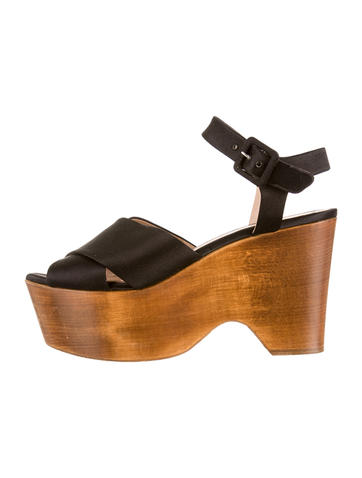 Celine wedge sandals, found here, $195
Buy and sell
"The best brands at a bargain"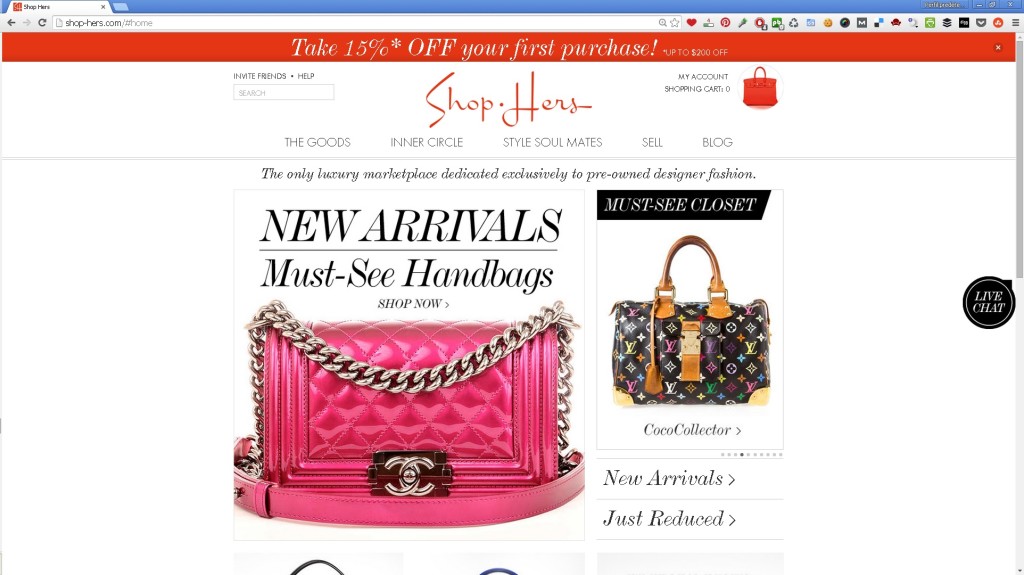 ShopHers is the place to go if you are looking for a good deal on that Louis Vuitton bag of your dreams or another fashion splurge. Pieces are guaranteed for authenticity and the website is user friendly and offers great filterig capabilities to help you find just what's right for you. ShopHers has an iOS app and a loyalty program that rewards you for your purchases.
Brands: Chanel, Hermes, Louis Vuitton, Céline, Prada, you get the idea.
My #1 pick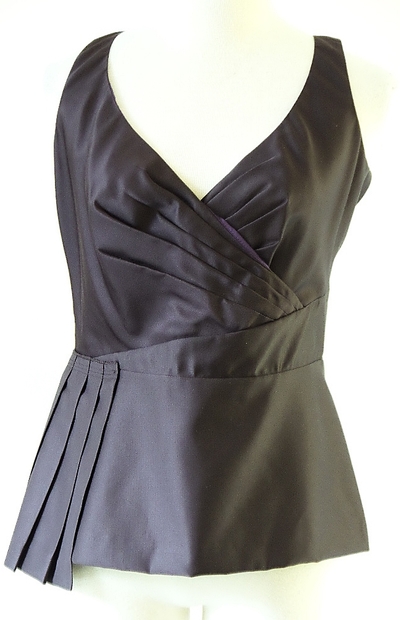 Prada blouse, found here, $146
Buy and sell
 "Shop from influencers' closets"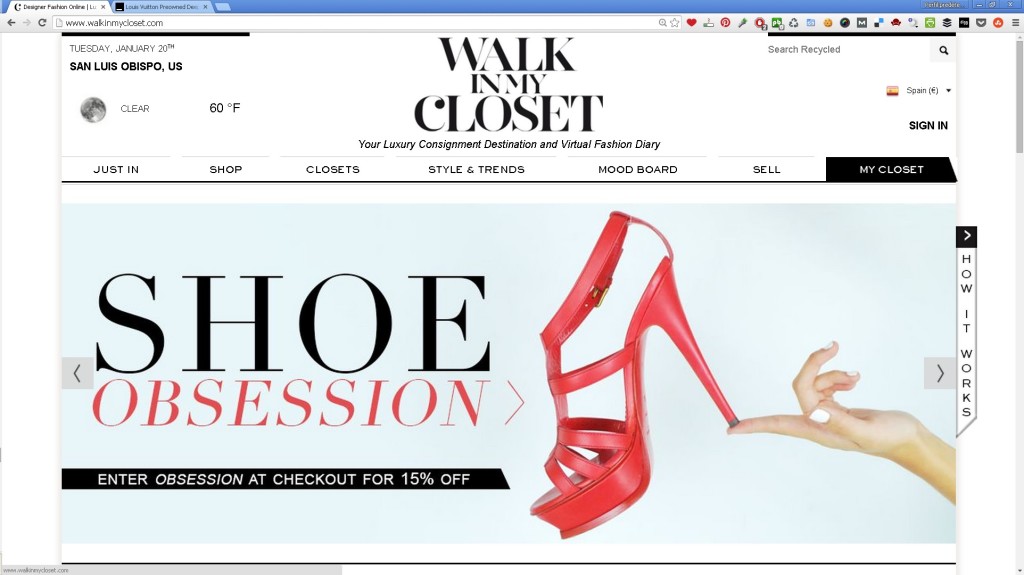 Walk in my closet is a luxury shopping destination discovering trends and emerging designers. You can buy and sell vintage and contemporary fashion (currently not accepting more sellers). Get the iOS app here.
Brands: Chloé,  Isabel Marant, Louis Vuitton, Prada, Gucci, Valentino, Fendi.
My #1 pick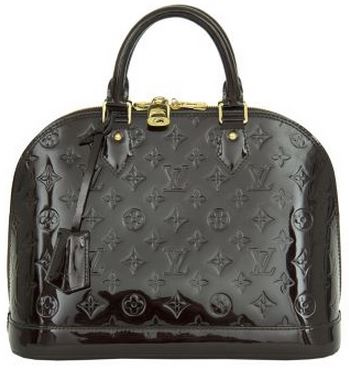 Louis Vuitton Alma Pm Tote, found here,  $1,817
Buy and sell
"Cheap, cheap, cheap!"
All the fast fashion brands you can think of at even cheaper prices. I don't like buying at such stores, but if it's used, at least you can give good use to a garment that otherwise would be discarded. But be very selective and don't let yourself fall for the allure of extremely cheap prices! They also have some designer brands (real and fake, so be careful!). I love the idea of swapping, this is another site that lets you do that and, making it easy to refresh your wardrobe without buying anything new.
Brands: BCBG, Michael Kors, Calvin Klein, F21 and pmany private labels. Again, their focus is not brands but price.
 My #1 pick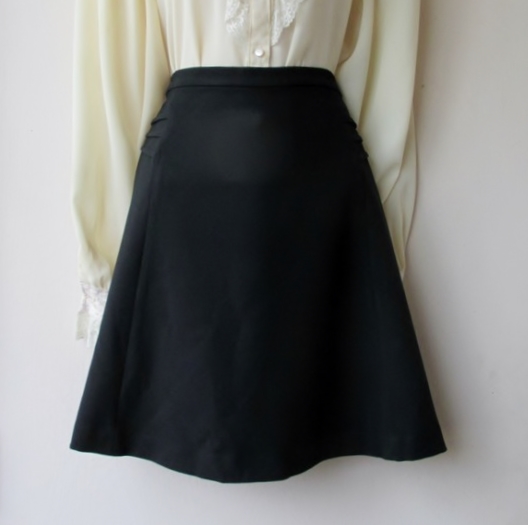 Random black skater skirt, found here, $8.50
Other thrift-shop like resources
Rentez-Vous (Europe only)
Rent and borrow clothes in this peer-to-peer fashion rental startup.
An app to buy and sell items for free, great variety and very user friendly.  Available for Android and iOS.
WebThriftStore allows any non-profit to run an online thrift store without holding inventory, a very interesting idea that allows turning unwanted items into cash to make a better world. Now with an app for iPhone.
Conclusion
I have talked a lot about brands and what to get or not to get from these stores, but the best advice I could give you is to buy what would make you look and feel good, always remembering that clothes are only a very small part of your personality and that they should only be fun and help you feel comfortable. Some of my best thrift shop finds are old rags that happened to fit me well, I wear them all the time and don't care about the brand. Brands can provide great value in some cases, but I never pay more just because of the brand, it has to fit well first and if it happens to be made by Alexander Wang, well, there are worse problems to have.