Gift Guide for the Minimalist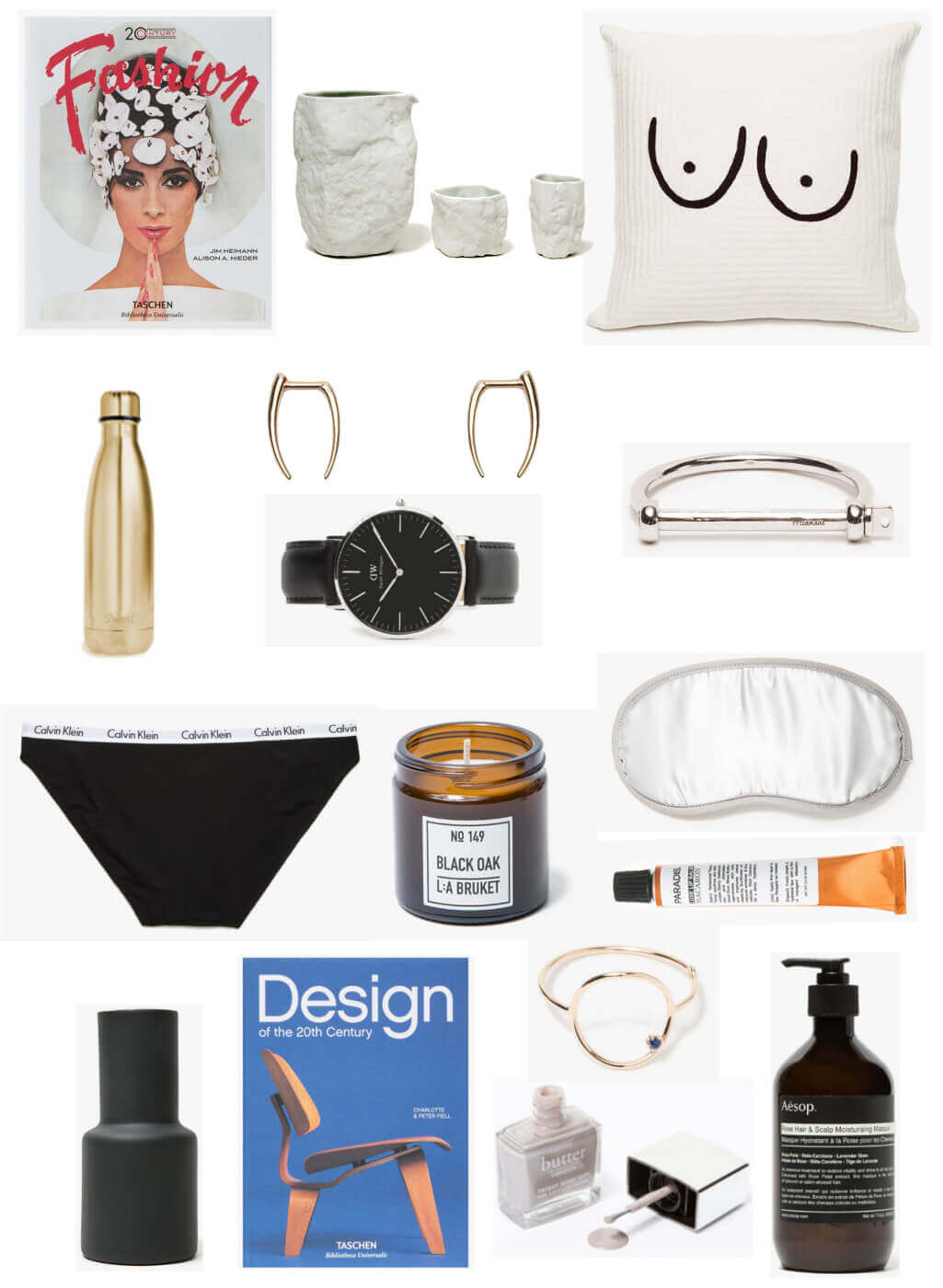 This Holiday Gift Guide is an attempt to make peace with past Holiday shopping traumas. I would love anything on this list as a gift, especially the Cold Picnic pillow, I've been eyeing those for a while.
From top left to bottom right:
20th Century Fashion Book. One of those coffee table books stylish and fashion people always have/
Saikai 1.2 Sake Set. Unexpectedly tasteful.
Cold Picnic Private Parts Pillow. I've been obsessed with Cold Picnic since I first saw that boobs bathroom mat.
S'well Stainless Steel Water Bottle in Gold. This is jewelry your car.
Gabriela Artigas earrings. The best earrings I've seen this year. Hoping someone sends them over to my doorstep.
Daniel Wellington watches. When it comes to gifts for fashionistas, this has to be one of the most "she will for sure love it" of this list.
MIANSAI Silver Screw Cuff. That perfect balance of industrial design and fine jewelry.
Calvin Klein underwear. Always appreciated.
L:A Bruket Scented Candle. One can never have too many scented candles.
Binchotan Eye Mask. You could argue everybody should have one of these, but they don't, in my book this means gift opportunity.
Macaron Luxe Lip Balm. I don't know about you, but I never have enough lip balm, even though I keep one in every purse, jacket pocket and nightstand.
The Granite Epoca Vase in Coal. I can't explain why, but this vase makes me feel safe.
Design of the 20th Century. Another good coffee table book for artsy people.
Sarah & Sebastian Stone Bubble Ring. To add to your friend's circle mania.
Butter nail polish. Love this color, don't want to wear anything else this season.
Aesop shampoo. Pure soapy luxury.
I tried to cancel Christmas a couple years ago, when I felt sick of the indiscriminate consumerism and the heavy traffic. I have tried to cancel Christmas again when I feel that it's a dumb Holiday and just a way to make people spend money… but I have learned to take the good parts about it, some of which include shopping for your loved ones. Instead of that pressure to get something for everybody, I put more thought into what I buy for people and I also enjoy the process a lot more.
I got a 25 days of Christmas gift box, that's when you open one gift each day of December until Christmas Day… and it is awesome! Wake up to get a new gift every day is pretty cool. Getting gifts is pretty cool too, so no more attempts to be the Grinch for me. I'm all in with the Holiday spirit thing.