Gift Guide for the Fashionista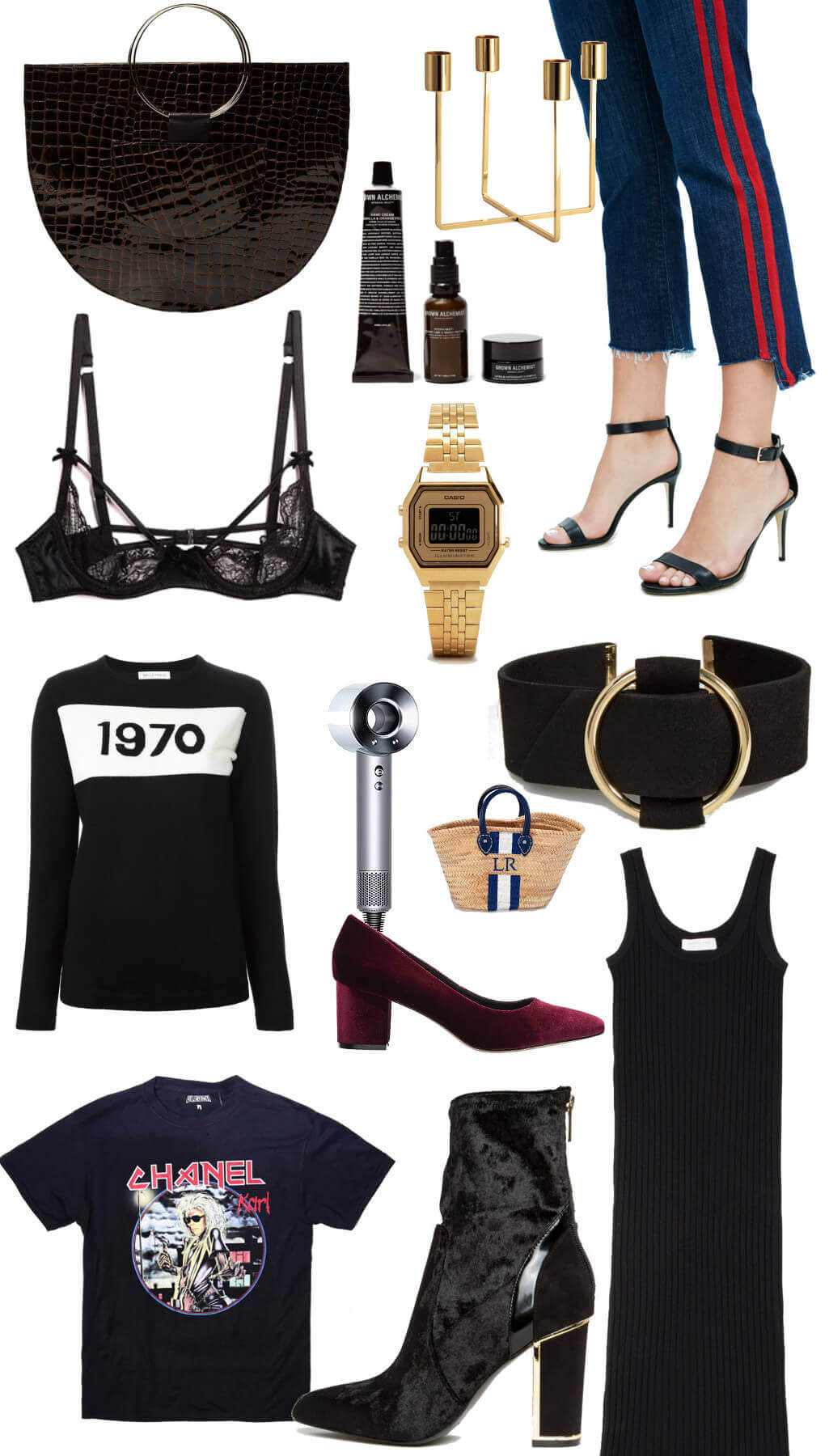 Fashionista is a weird concept. It means you are into fashion, but what fashion? Does it means you follow trends blindly or that you make your own fashion statements? I think fashion is a mix of both: take what works from the vox populi and create the rest from your own sense of style. This list features some "trendy" pieces like velvet shoes, graphic tees and chokers, but the essence is in how you make it your own. Personal care is very important, so I included the Dyson hairdryer, the $400 personal appliance that is revolutionizing the industry.
Gift Guide for the fashionista
2016 Edition
[from top left to bottom right]
Oversize hardware bags – Veda Half Moon Bag. Big metal ring + croc embossed. Yes please.
Thoughtful personal care – Grown Alchemist Handbag Essentials. This TSA-friendly set is perfect for the busy or the girl who likes to keep a good array of personal care products in her handbag at all times.
Golden home decor – Metal Golden Candlestick. Since getting our new house, this is all I want to buy.
Altered Denim Jeans – Mother Denim cropped uneven hem jeans. Uneven hems are the only kinds of hems in my closet right now.
A black lace bra – Fleur du mal Leavers Lace Peek-A-Boo Demi Bra. Black underwear forever.
A gold watch. CASIO golden watch with digital display. No Rolex, BUT, even better because of the digital display!
Graphic sweaters – Bella Freud 1970 Sweater. The perfect graphic/modern/old school/basic sweater.
High-tech appliances – Dyson hairdryer. The $400 hairdryer.
Straw bags – Rae Feather monogram straw bag. Cute and unexpected. ♥ straw bags.
Chokers – Suede Ring Choker Necklace. This choker combines the obsession with circular shapes with the love for velvet, 2 fashionistas' must-haves. (wow, I just remembered Velvet Revolver…)
Graphic Tees – Bleached Goods T-Shirts. This is really the only thing I really want for Christmas, can you hear me, EVERYBODY? Old school rock bands + fashion designers. Does this company exist just to hurt me with its perfection?
Velvet shoes – River Island Studio Velvet Block Heeled Ankle Boot. Did you ever watch the movie "Blue Velvet", by David Lynch? I did. And other than giving me a perfect answer for whenever someone asks for a Heineken, the opening song has been stuck in my head since velvet became a "thing".  Here it is. You are welcome.
Knit dresses – Everlane E2 Ribbed Tank Dress. Because Everlane.
Again, these are all things I personally like and would love as gifts. For Christmas or not Christmas.