The Bottega Veneta Pouch is my most coveted accessory of the past few months. When I get rid of my minimalist aspirations and let myself dive deep into the world of overpriced couture and Instagram product-pushers (aka influencers), I tend to gravitate towards handbags and shoes.
Even in the middle of a pandemic, thinking about fashion and shopping brings me a sort of familiar comfort. Am I going to wear it right now? Of course not, I don't even leave the house these days, so I have no use for my cute handbags. But, "once this is all over," as I hear people often refer to the time when social distancing norms are no longer in place and restaurants are officially open  (which, by the way, it's too optimistic to expect that will be in less than a year), it will be a glorious time to display all of your obnoxious fashion and unnecessary handbags.
The optimum size, just big enough for essential items but not too large to make your arm hurt, the gathered leather, effortless look, and the simple yet elegant leather finish make The Pouch one of those timeless bags that don't go out of style.
For when that time "when this is all over" finally comes, here is a guide to the Bottega Veneta Pouch.
Update (04.15.2020): at this time, due to U.S. import regulations, you can't buy Bottega Veneta directly from their website, use Moda Operandi, Matchesfashion, or Neiman Marcus instead.
Update (08.31.2020): you can now order directly from the BV website, but shipping might still take longer.
All the styles of The Pouch
1. The Pouch classic gathered leather clutch
Beautifully minimal and unpretentious. Also, my favorite color of this bag, the name is "cammello," which means camel in Italian. The one you should have if you are trying to make your pick for sure.
2. The Pouch in Intrecciato Woven Leather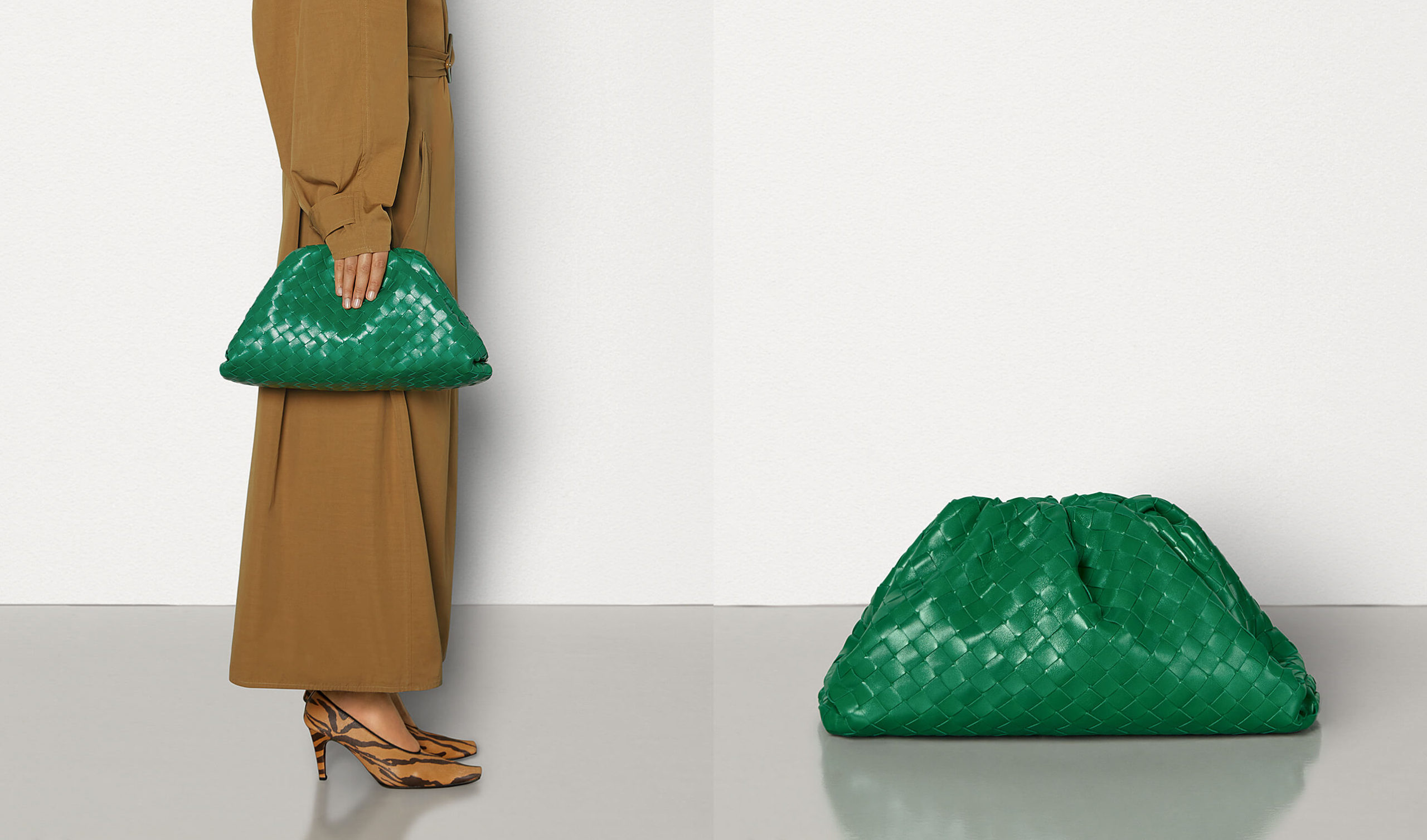 Nothing says Bottega like a good old intrecciato. This bag is basically the same style as #1, but it deserves its own spot because the woven leather does make it look different: less like a cloud and more like a real clutch. It also comes in different colors than the butter leather version.
3. The Pouch in Metallic and Other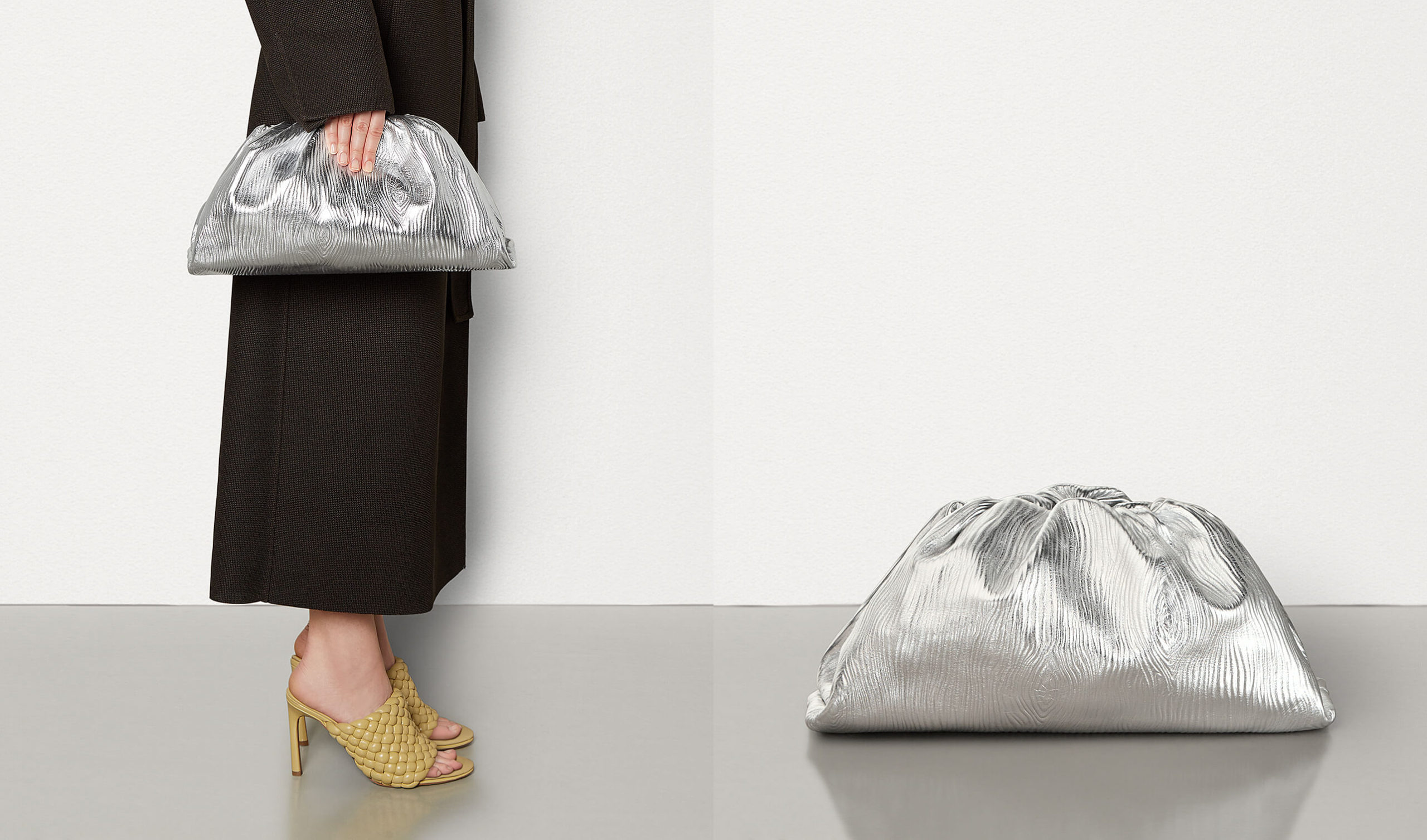 Still keeps the iconic shape while adding a little more pizazz. Available in silver, oro (gold) and zebra print.
4. The Pouch Mini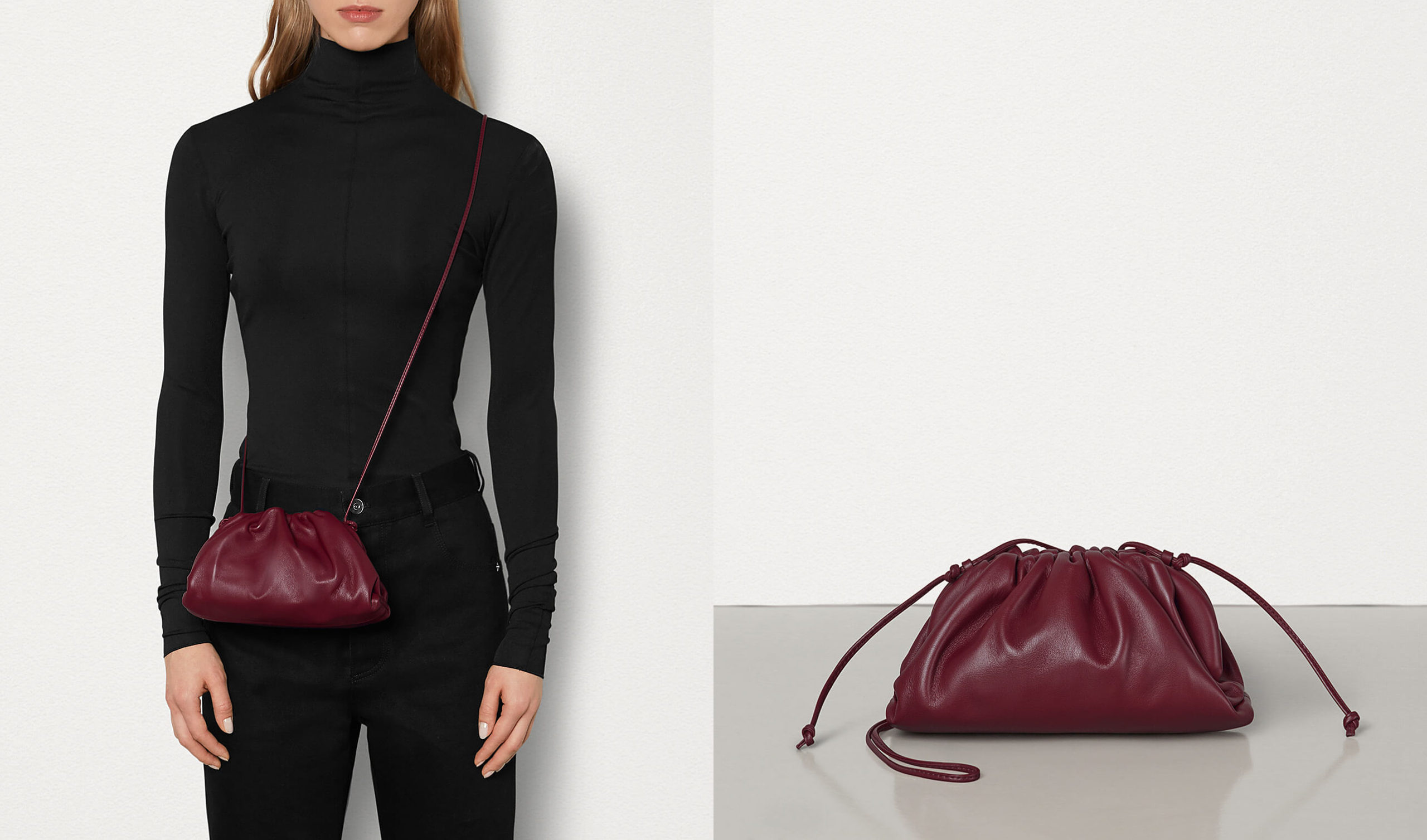 A cute every-day crossbody mini purse for those who are into mini purses. Tip: it also comes in intrecciatto.
5. The Shoulder Pouch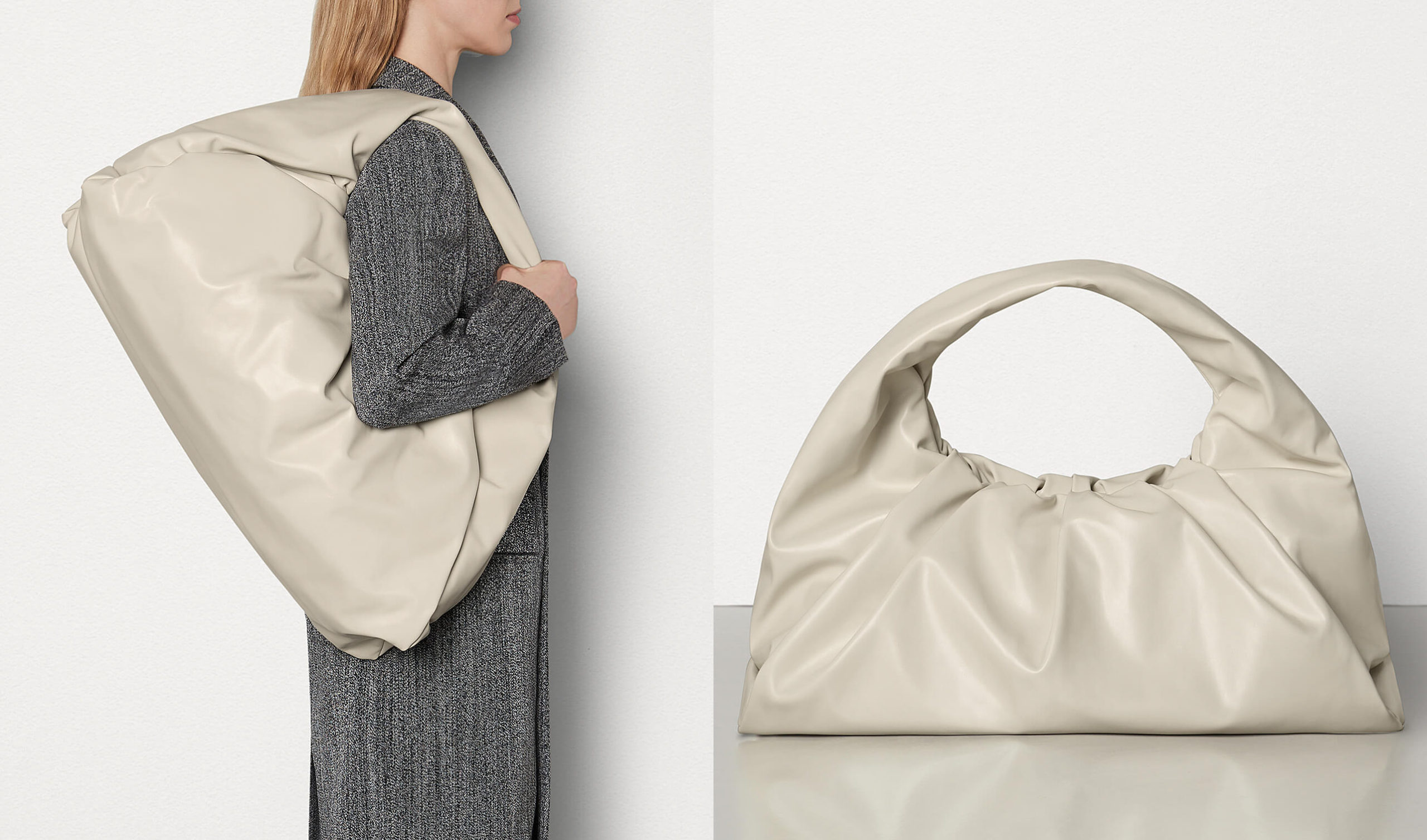 Like a cloud under your arm.
6. Coin Purse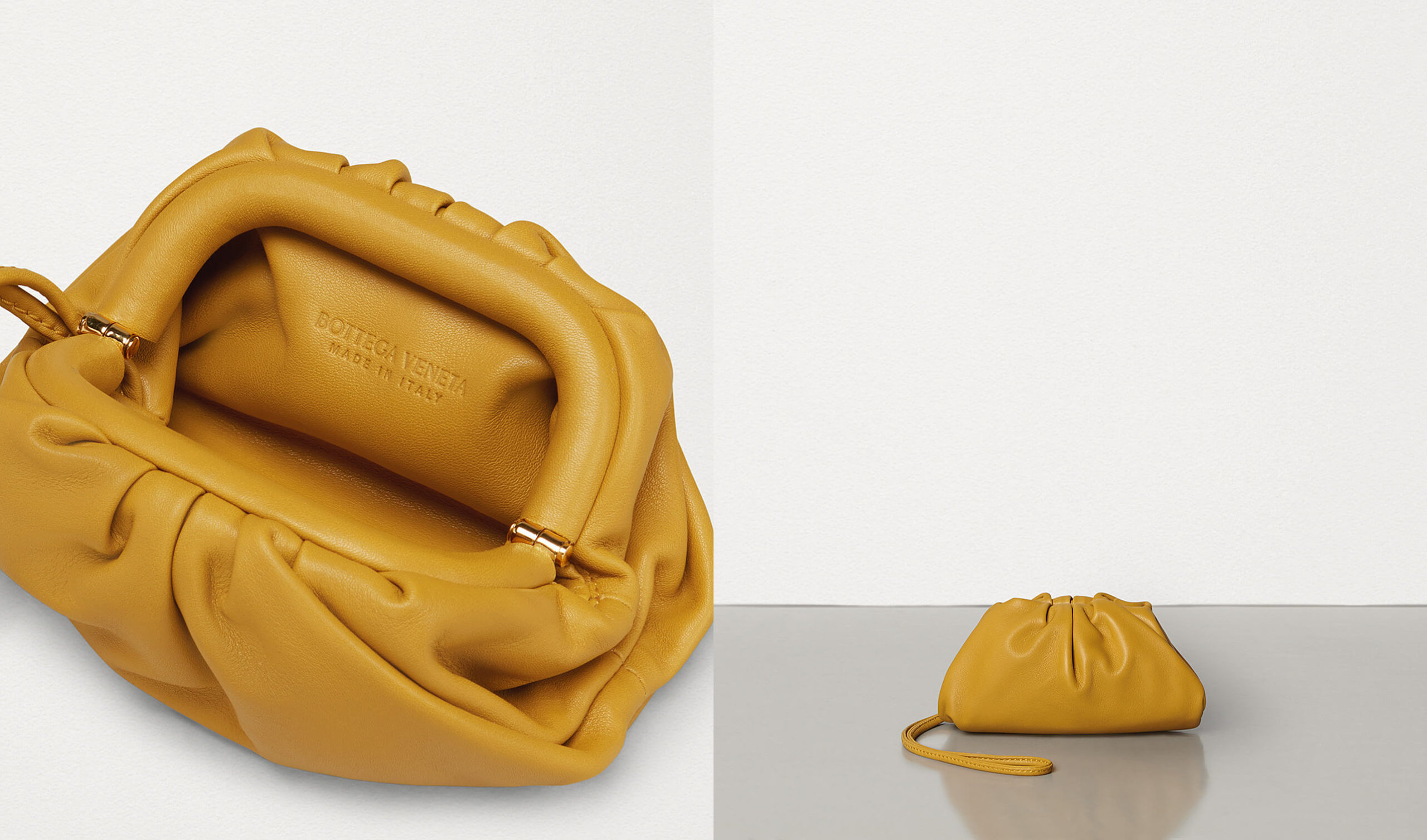 A $630 coin purse that I doubt you could fill up with coins that add up to an amount close to its price.
7. The Chain Pouch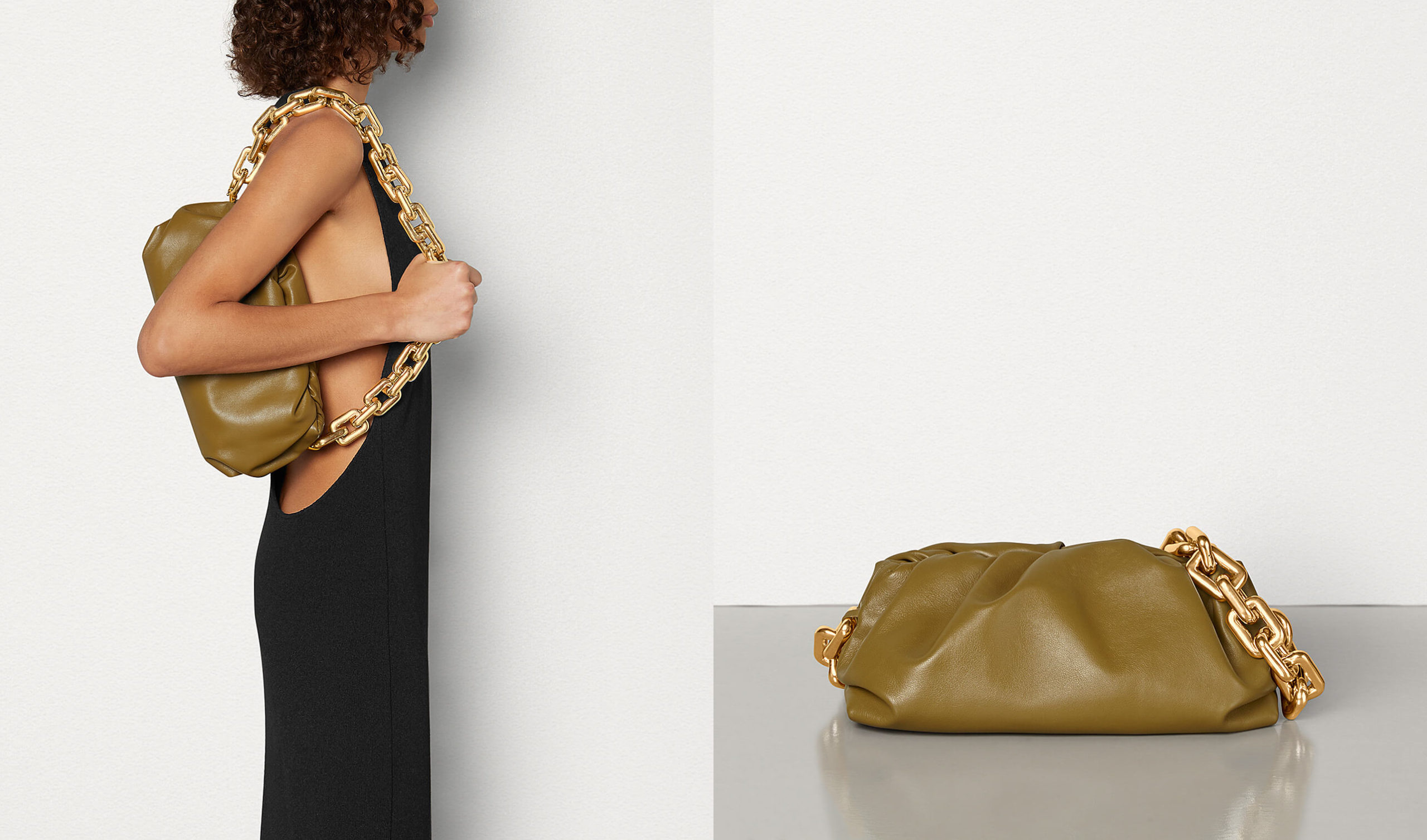 I don't really like this one, that's why it comes last.  An obnoxious thick chain that says "here I am" is not my style. But, if someone wanted to give me this bag, would I take it? Yes, I would.
All images are from Bottega Veneta.
Shop The Pouch