Everlane Denim
Everlane gets an A+ when it comes to successfully producing and marketing ethical fashion. There isn't another company so meticulous about their commitment to transparent supply chain and so smart to make products people actually want to wear. Their collections of timeless essentials has grown over the years introducing new lines of shoes, bags and outerwear, going way beyond the classic white t-shirt they started with 6 years ago.
Here is how the company describes the denim value proposition:
Ethically made and perfectly fit. One premium Japanese fabric in five flattering styles, produced sustainably and transparently.
There are other companies making (or trying to make) sustainable and ethical jeans, but I can't recall one that is fairly priced and versatile enough. That is the problem that Everlane set out to solve.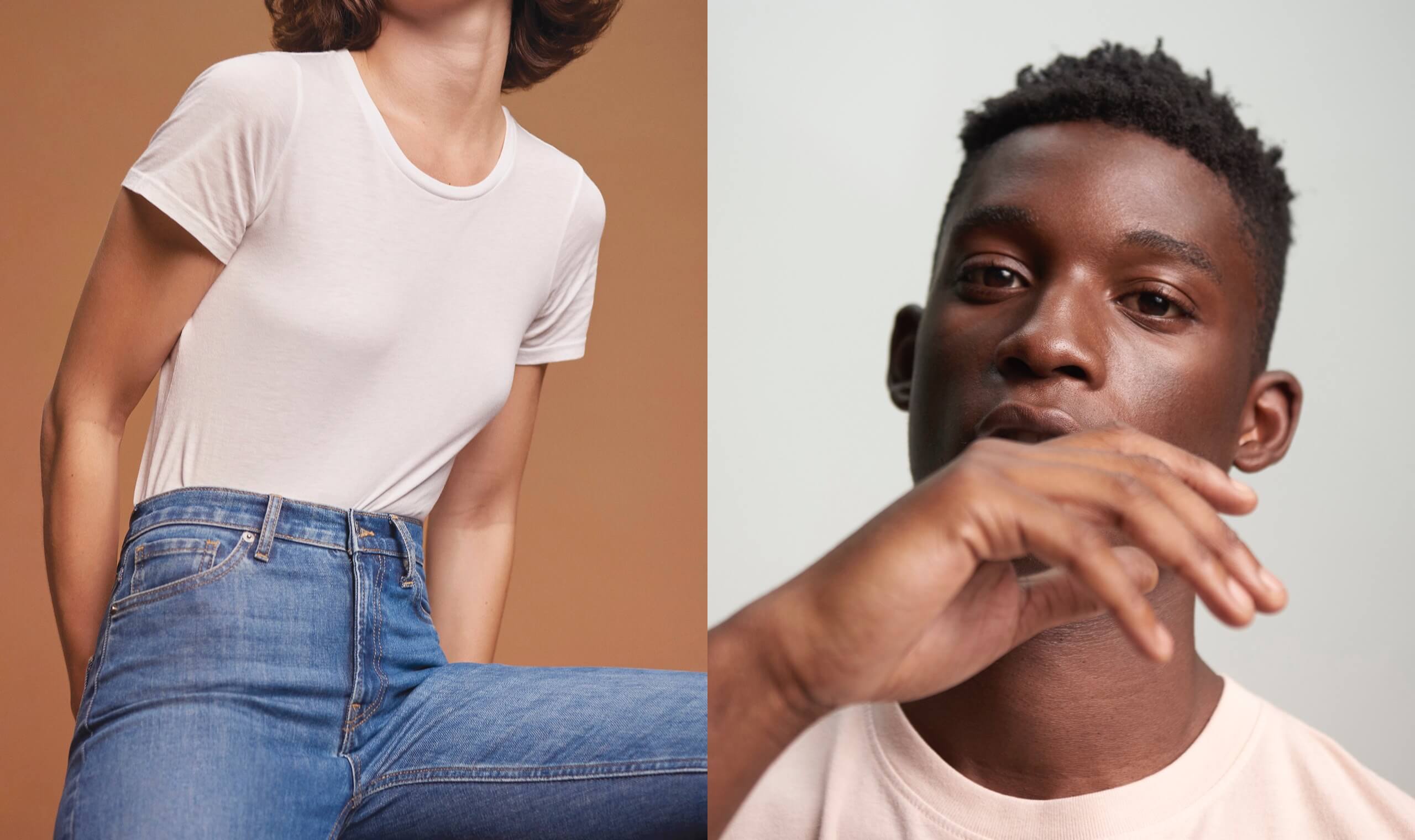 What we know so far about the denim collection is pretty exciting:
There are 3 styles for women and 2 for men
The women jeans are available in 3 styles: high-rise skinny, mid-rise skinny and boyfriend
They are made of an innovative Japanese fabric that doesn't stretch out and keeps its shape
They are manufactured in the "world's cleanest factory"
They are less stretchy, keep their shape and don't bag out
Prices start at $68
Updates (9/7/17): they are available in regular and ankle length and 4 colors and available in sizes 24-32.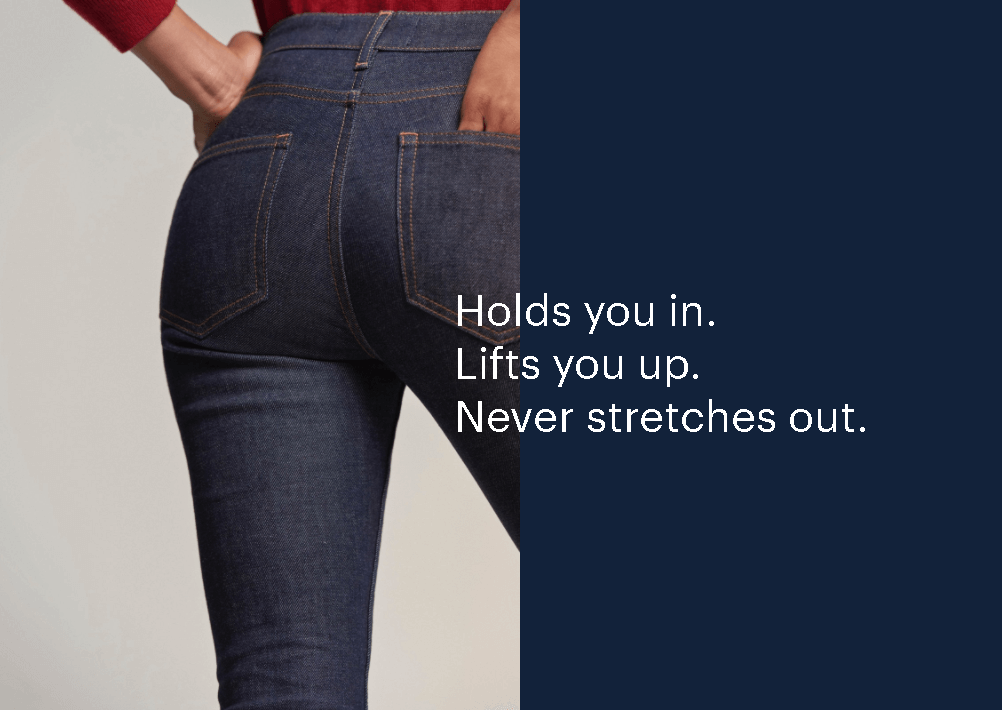 One day prior to the big (huge) launch, the following message could be seen on the Everlane homepage, signaling the historical relevance of this launch for the company. This product introduction is different than any other because, given the price point, and the size of the denim market, it could represent a pivotal point in the company's life.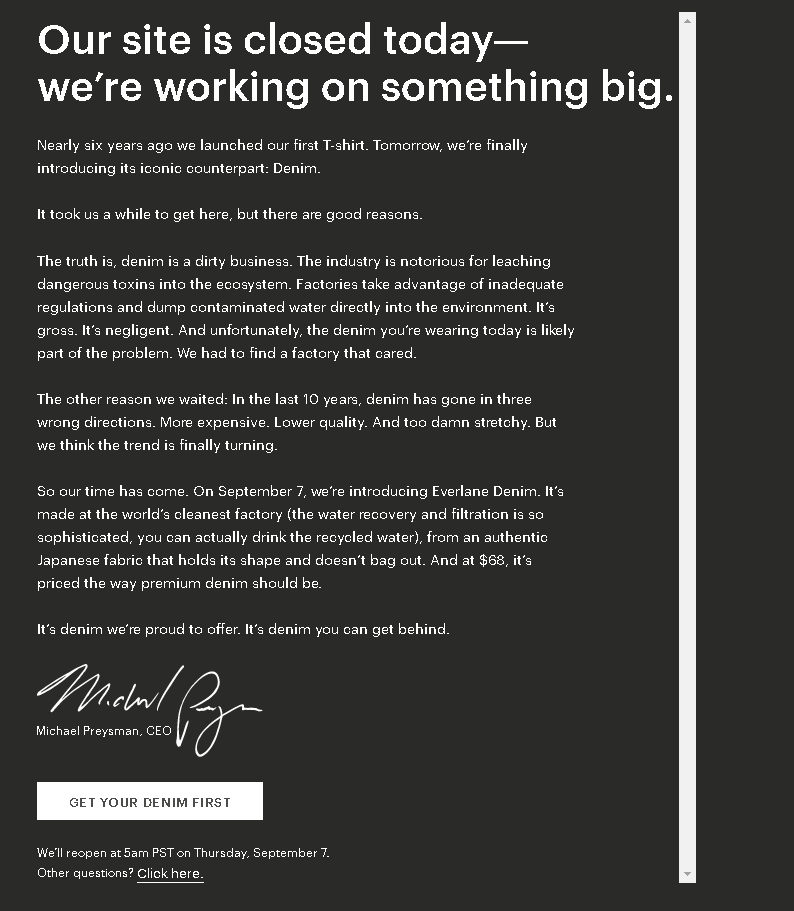 There are ~44,000 people on the waitlist, which should mean they are already starting off on the right foot.
But why denim?
"Denim is a really dirty business", says Evelane CEO Michael Preysman. He set out to find a more sustainable way to produce one of the clothing items that seem to have the biggest impact on the environment, given how it is traditionally produced. According to Fast Company, this $60 billion industry is one of the worst because "it can take up to 10,000 liters of water to make a single pair of jeans. In most factories, the majority of untreated waste water–full of dyes and other chemicals–goes back into rivers and the ocean".
The dream of sustainable denim could only be possible with a factory that used radically different methods, and this is where a Buddhist factory owner in Vietnam came to save the day. Saitex is the name of the factory that has been referred to as the world's cleanest factory (or the cleanest that they've found so far). They minimize the water needed throughout the manufacturing process and re-purpose the byproduct of the water purification as construction materials. That's a first for me.
I read on the website that these jeans are heavier and don't "bag out", and I didn't understand the relevance of this at first. It seems like a very normal thing to have your jeans lose their fit and shape after a few wears, right? The problem with this is that, as a result, we wash our jeans more often in order to return to that magical fit we love. Everlane's purpose behind this sturdier, more resilient fabric, is to help save water too, as we won't need to wash these as often. Isn't that thoughtful? Asking people to do something is one thing, but making it easier for them to chose more sustainable practices is a whole different monster.
The goods
Here is the sneak-peak at the denim styles for women:
Transparent Pricing
Here is how the cost breakdown looks like for denim: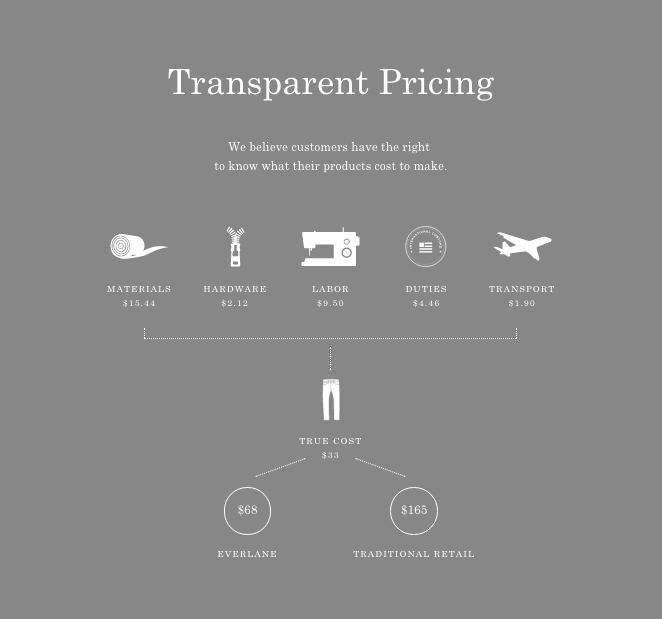 You can shop the collection now.