Girl Power T-Shirt
Do you remember that story about the feminist t-shirt being made in a sweatshop? It was back in 2014, but the hypocrisy behind that is still striking today. Not only because of the horrible irony that a t-shirt promoting feminism was made by women working under what most of us would consider unacceptable conditions, but because it highlights how little people think about where clothes are made. From all those involved  in the process, which included a feminist NGO leaders, press, sales people and marketing, not a single person saw this coming, which says a lot about how the garment industry works. On the upside, this episode might have helped people think twice before they buy a seemingly innocent t-shirt.
I am somewhat obsessed with graphic tees, as you may have noticed from posts like this one and this one. So, when I saw the Girl Power t-shirt from Dolores Haze, it just worked. I tend to stay with old bands and obscure pop culture, as opposed to political statements, but I love this one because of the minimalist design, vintage vibe and who could disagree with a message like "girl power"?
Dolores Haze is a New York based label with heavy vintage inspiration using eco-friendly raw materials and manufacturing everything locally. They also donate 10% of the proceeds from their capsule collection to Planned Parenthood, as part of a strong belief in a woman's right to choose.
Samantha Giordano is the designer behind the brand and she shared with us some of her background and views on feminism.
---
The Feminist Roots of Dolores Haze
I stumbled upon feminism, quite literally, after finding myself in the "Women's Studies" section at Barnes & Nobles as an adolescent. My dad spoiled me with books, and got me The Second Sex by Simone de Beauvoir, Sexual Politics by Kate Millet, and The Feminine Mystique by Betty Freiden. During my young feminist self-education, I learned that feminism is a spectrum of nuanced thought focused around the advancement for the equality of women. At the same time, I was learning about my family's immigrant history in the Garment Industry, along with the history of the hundreds of women garment-workers that formed unions and protested for fair labor, and the origin of "Women's Day" as commemorating the 1908 Ladies' Garment Workers Union Strike in NYC. Fashion and feminism always intersected for me.
Ethical and Sustainable Fashion
While I'm thrilled to see feminism in the mainstream vernacular, it's ridiculous to see fast-fashion feminist slogan t-shirts. It becomes ironic to buy a "feminist" product when it's made by exploited oversea labor, especially given feminism's historical roots in garment worker rights. Feminism cannot become a mere commodity, and this is coming from someone who makes feminist products. The difference lies in that my products are produced in a way that upholds and emboldens my feminist and ethical beliefs. Our feminist garb is made in NYC, we personally know who makes our products and that they work under fair labor regulations, and we consider our carbon footprint. Consumers deserve transparency.
I label Dolores Haze an ethical and sustainable brand because most people have no idea why it matters. Many individuals who care about the environment and human rights aren't informed on fashion's impact on mother earth and role in human exploitation. Ethical fashion should be the norm, not some niche, and shoppers deserve to know that they can buy cute clothes that align with and support issues that matter to them. 
 Juxtaposed Inspiration
My introduction to fashion was different than most. As a kid my dad was a conflict-zone photojournalist, and from every trip I'd get a doll or item of clothing. I literally grew-up with this Afghani red-velvet dress that I loved even after I grew out of it, and could tell you the difference between Jordanian and Peruvian embroidery. I grew up spending lots of time in Chinatown, in these hole in the wall blue pottery shops that felt like little secret worlds away from the city streets, and picking out fish at outdoor markets with my family. I'd always wander off and then beg my parents to get me one of those Chinese dresses or pajamas that hang off shop-awnings. I often seem to find myself unconsciously influenced by my own nostalgia.
The juxtaposition of femininity and darkness is interwoven throughout all of our collections. Our new capsule line apposes floral brocades with black metal eyelet and suede lace-up details. The lace-up design is a reference to Norwegian Black Metal musician fashion. They constantly adorned black leather lace-up pants or vests, and I'm into it. I love putting a harsh detail against something more feminine, like floral. The floral silk brocade is a traditional Japanese aesthetic, produced in Korea, and sold via a Bangladeshi immigrant small business owner. The items are produced by Chinese-Malaysian immigrant women owned and operated factory. This melding of cultures and subcultures is such an influence of the city I live in, NYC, and the cultural collision that I love so much about this city.
---
You can learn more about Dolores Haze
here
.
---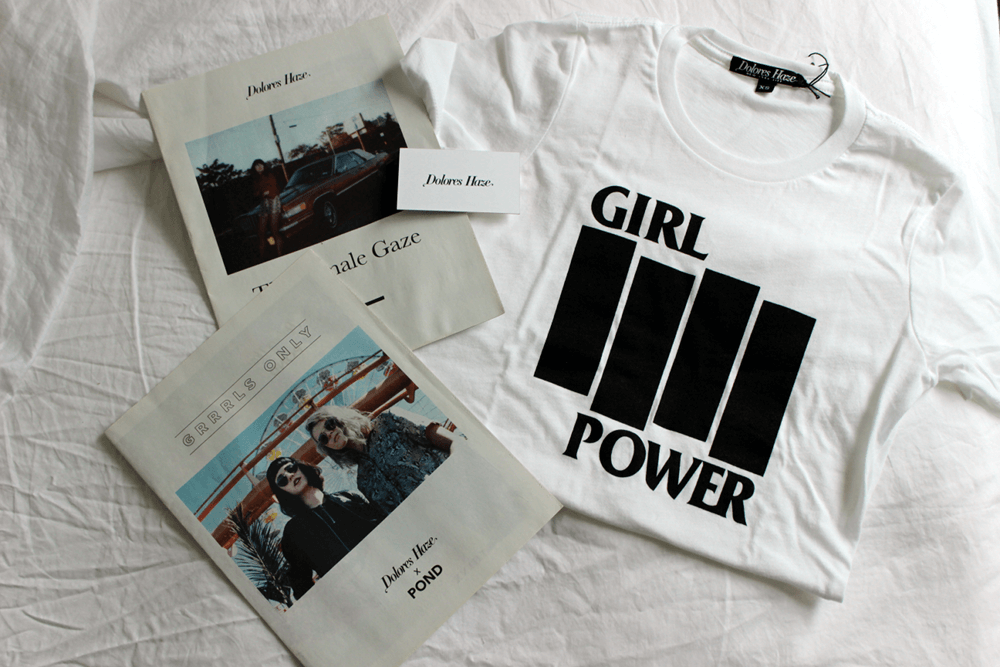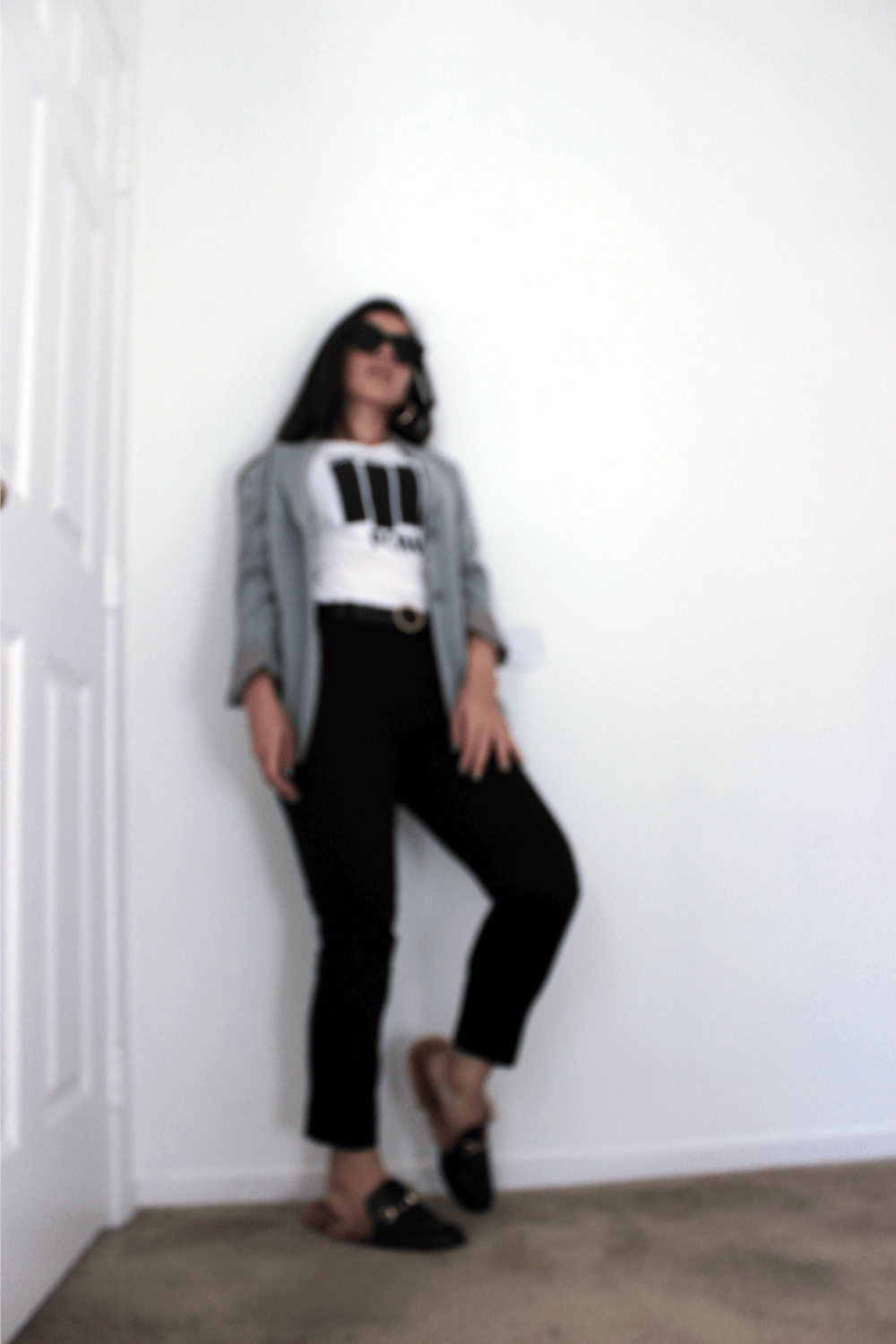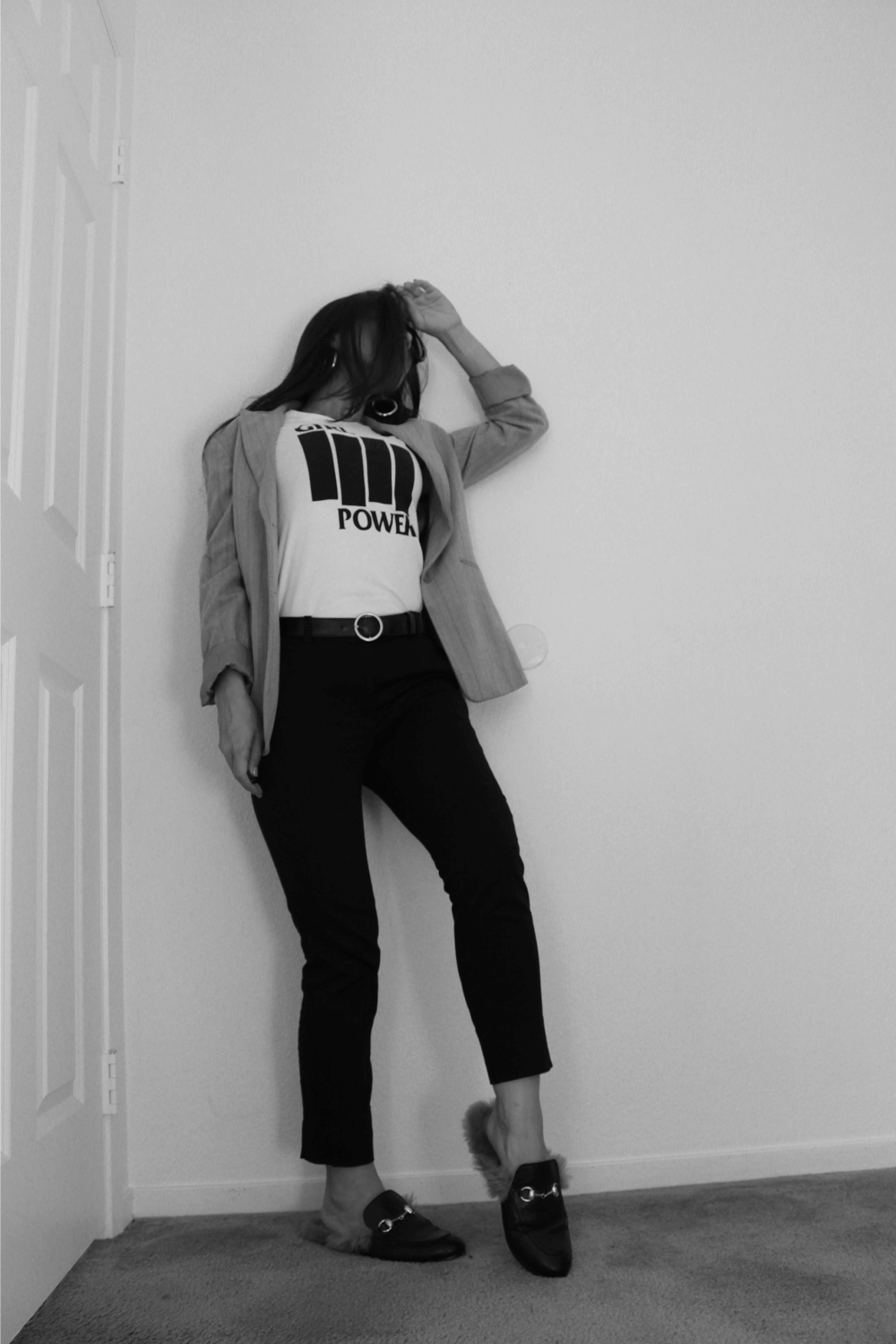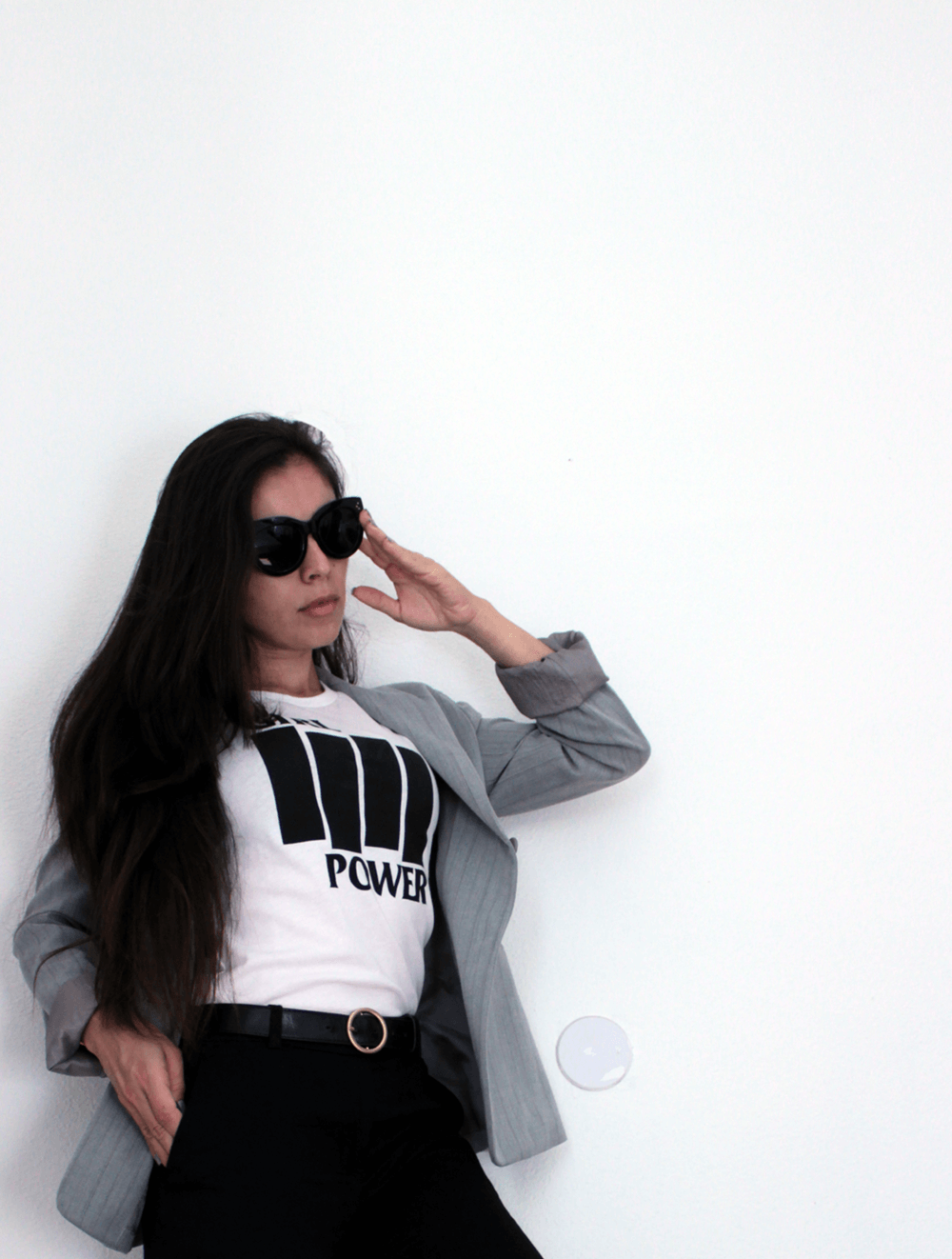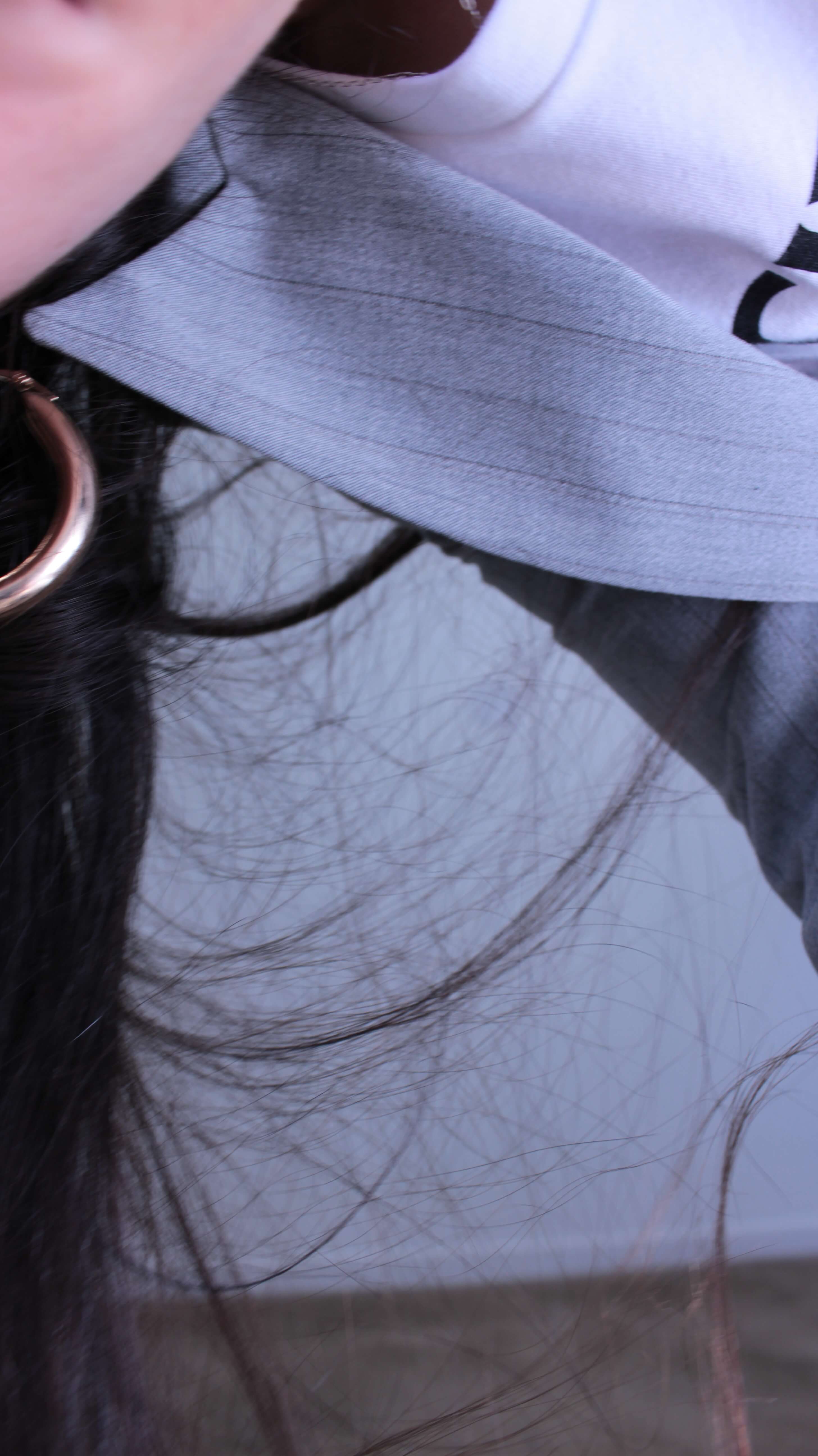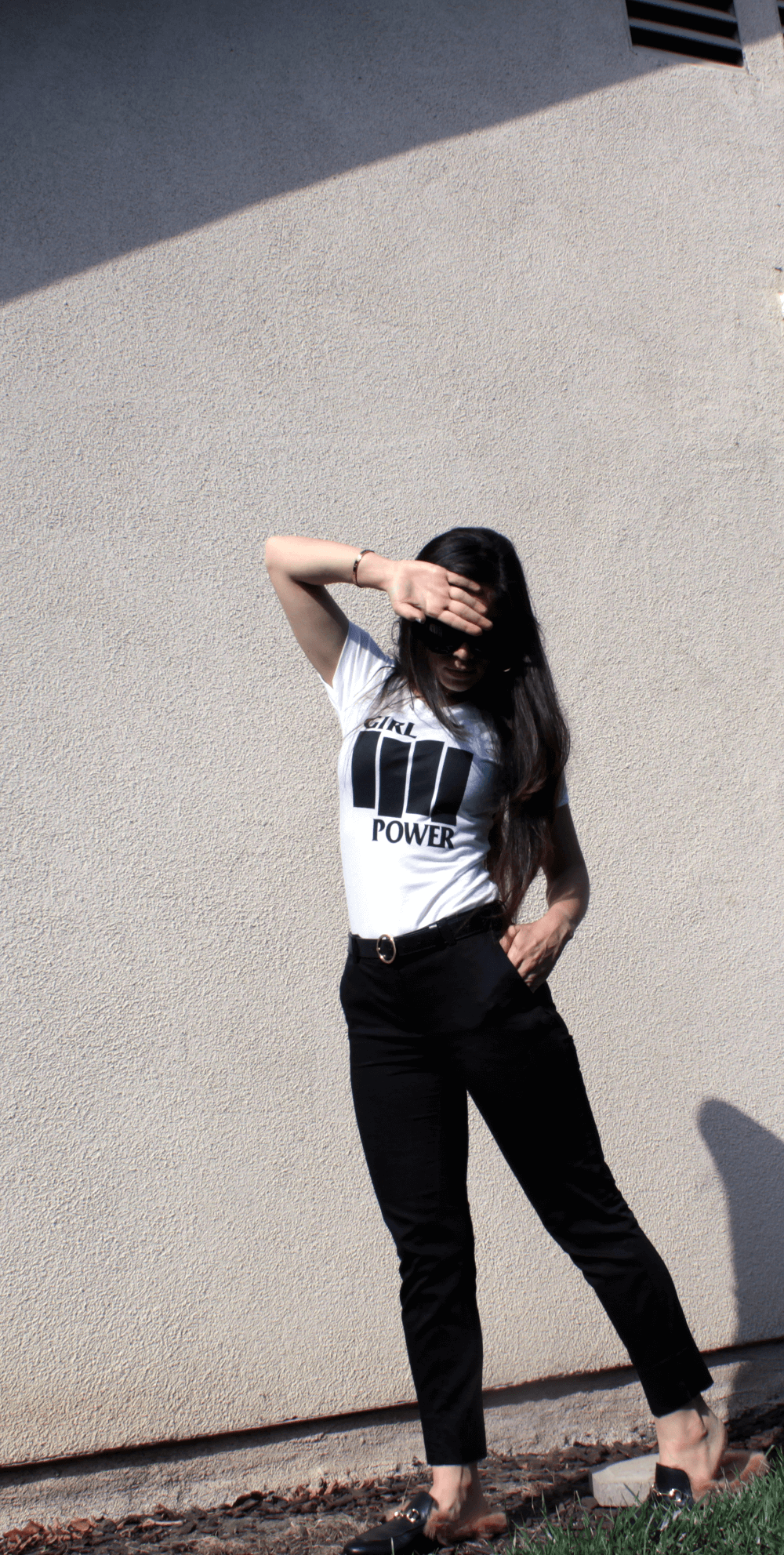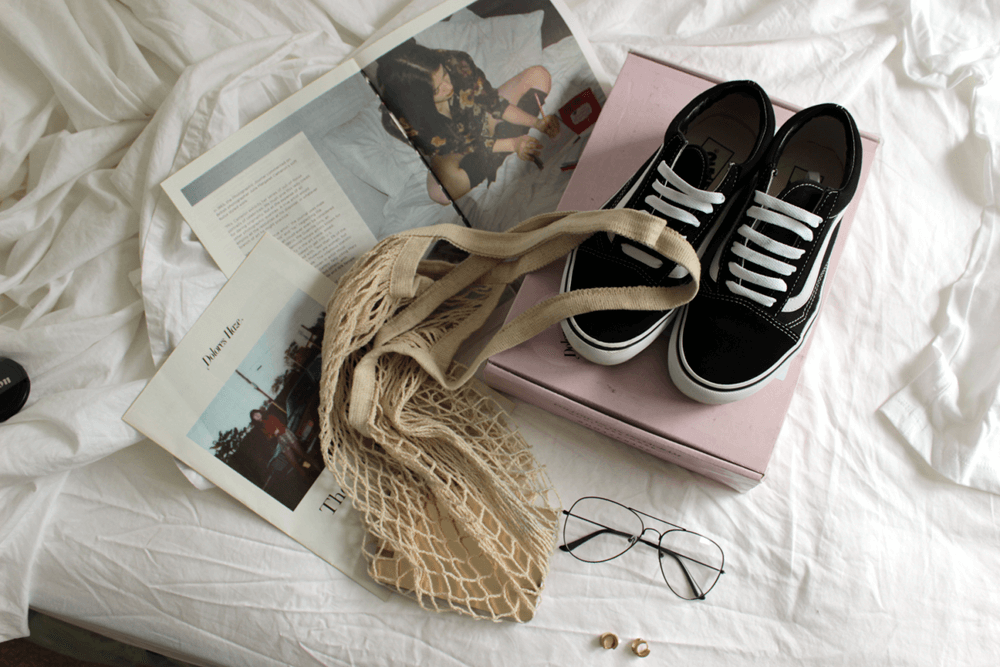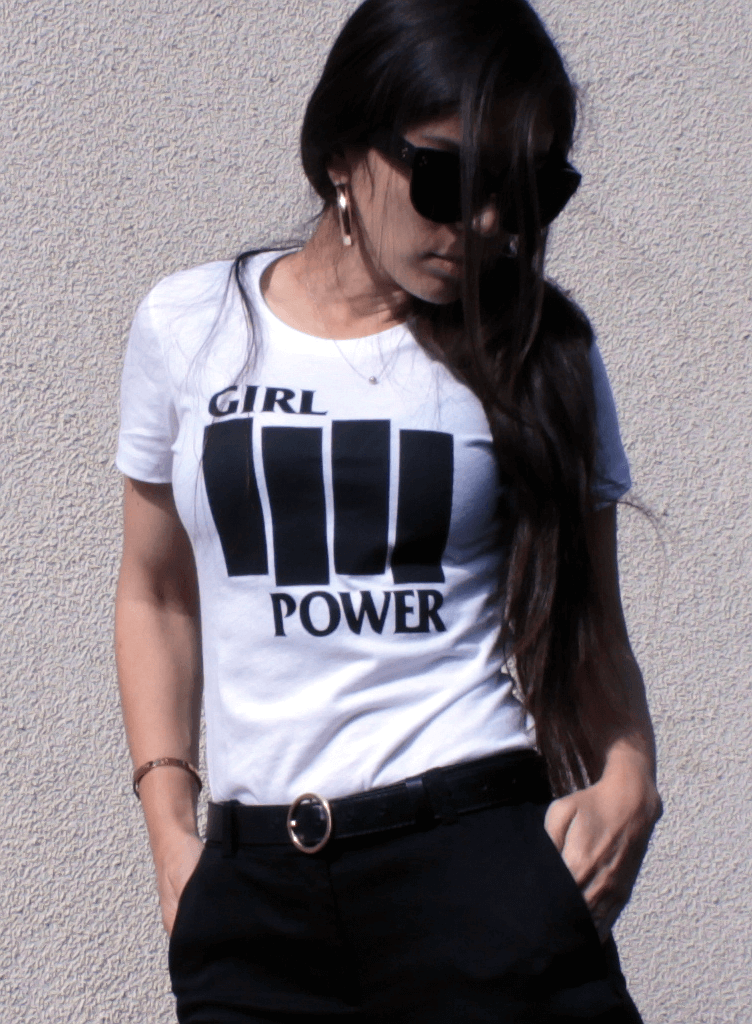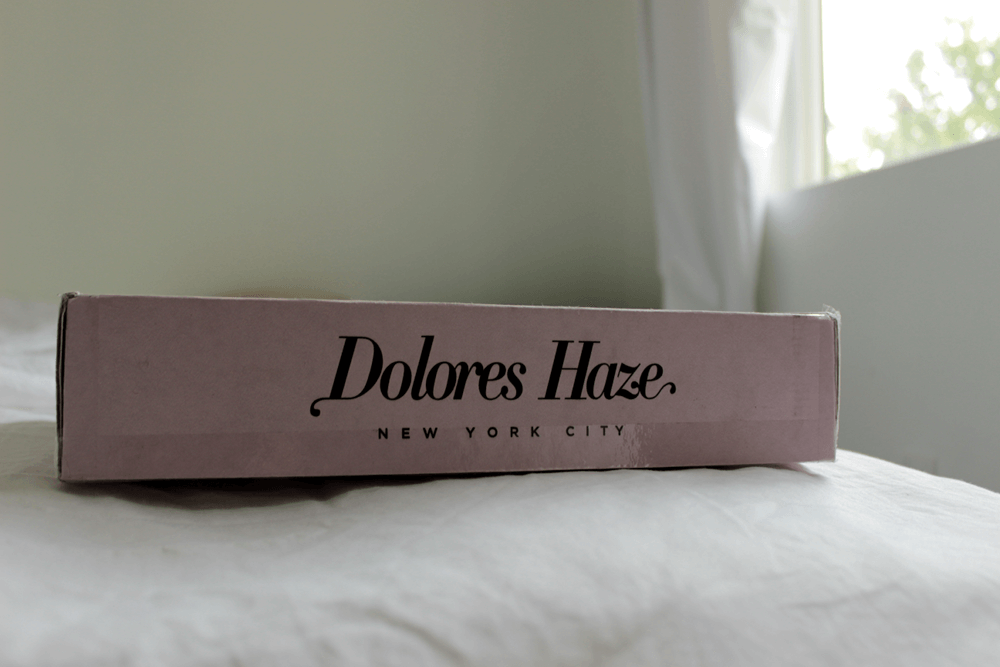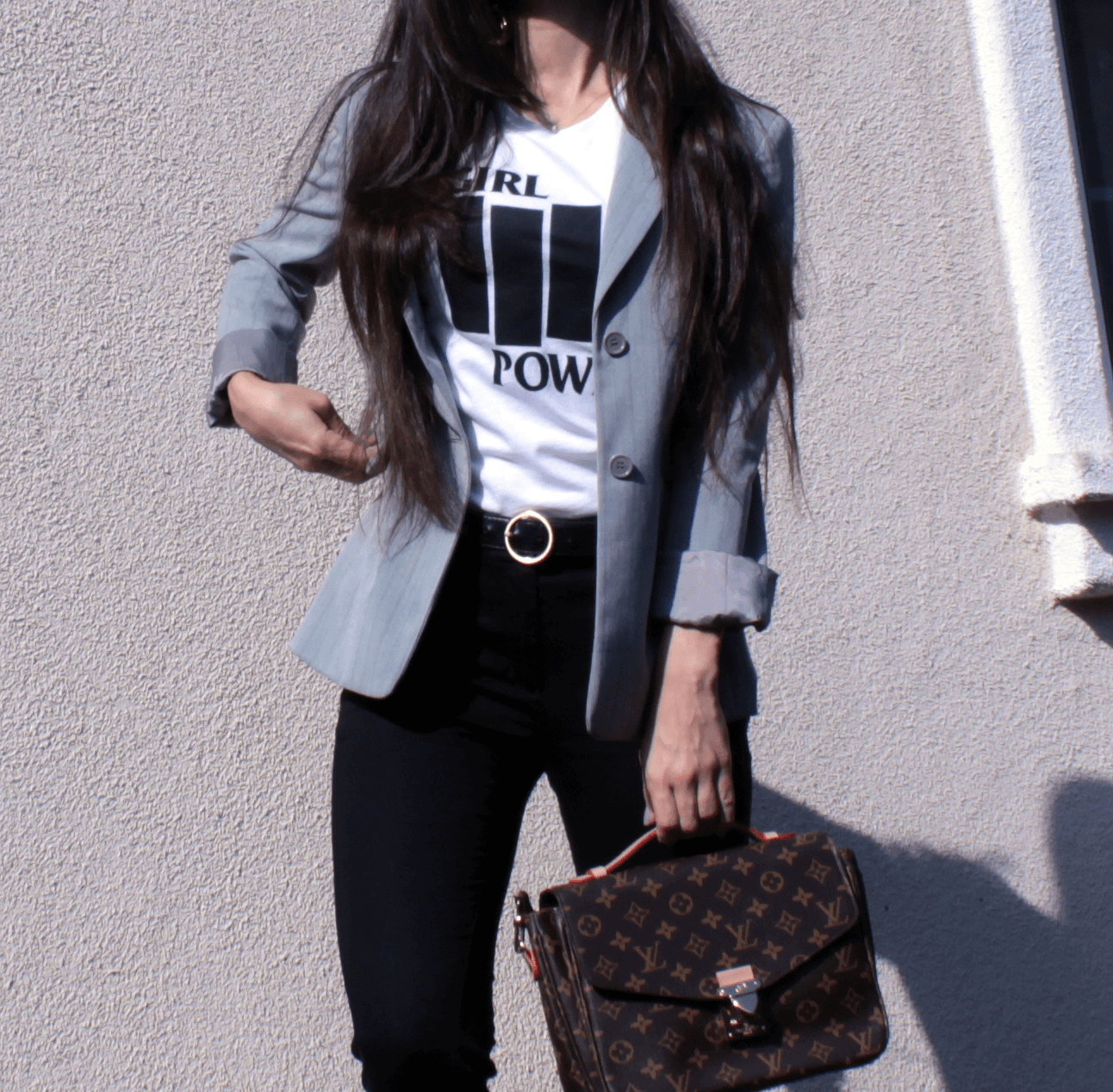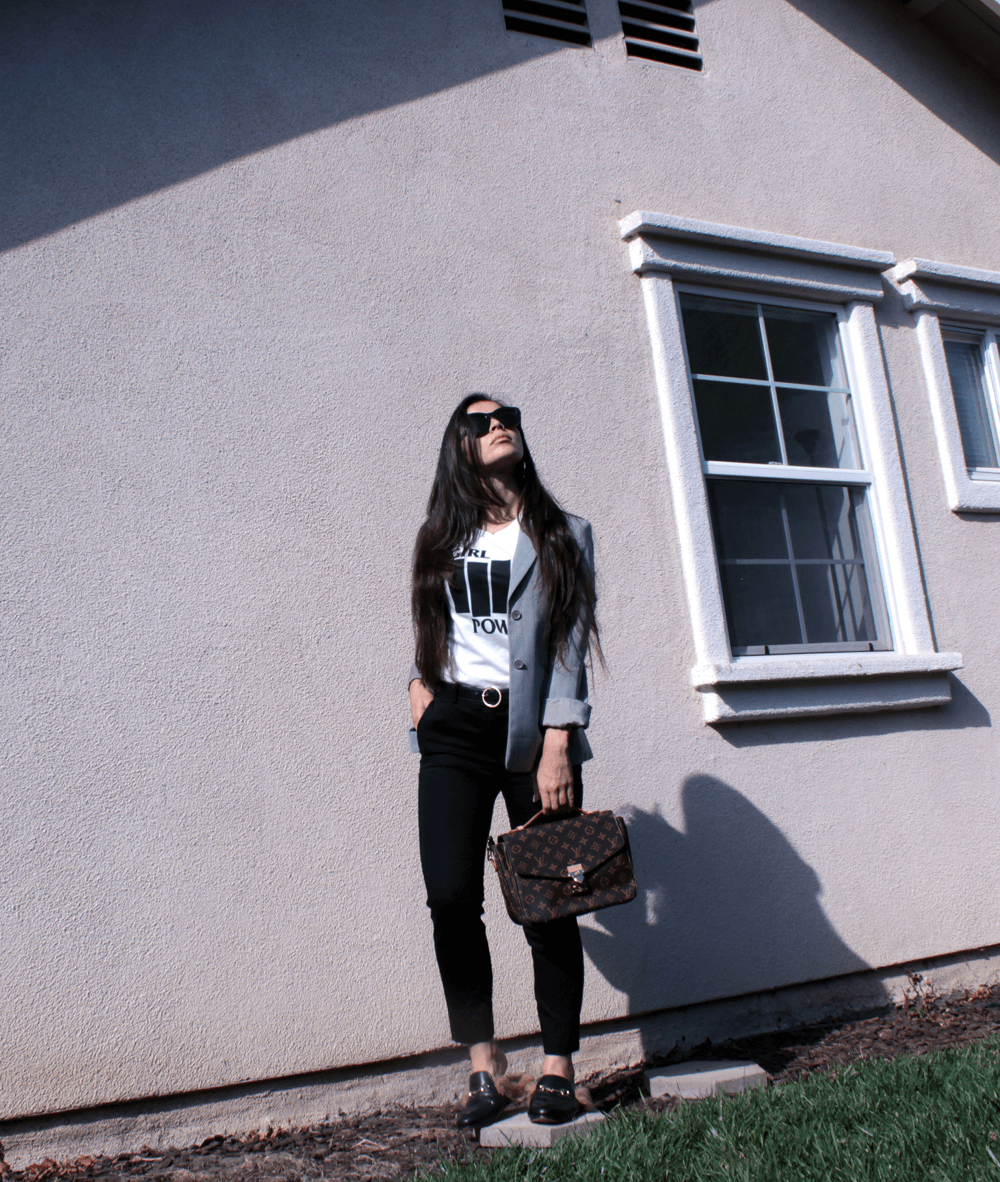 Dolores Haze Girl Power t-shirt | H&M hoop golden earrings (similar) | LV Pochette Metis | Gucci fur loafers | old H&M pants (similar) | thrifted BCGB blazer